Exciting start to high school season elicits 2024 On3 150 Update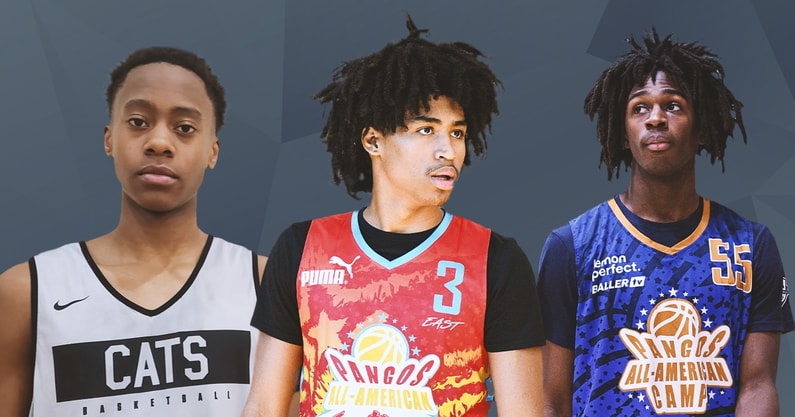 The 2024 On3 150 player rankings have been updated. On3 updated this class three times last year, debuting a top 25 in April, expanding to 75 in June, and broadening to a full 150 in October. This update is based on 1) in person evaluations from fall camps and early high school showings and 2) film study and intel on prospects since the travel ball season ended.
Since the last update in October, the On3 team was at Hoop Hall West, the Tarkanian Classic, City of Palms, Five for the Fight, the Bob Kirk Invitational, the National Prep Invitational, and more national events. With multiple showcases taking place every week(end), On3 has also collected streams and film to comb through the maximum exposure of countless events and players.
The ranking process is a continual and often fluid one. On3 starts ranking recruits as sophomores, and that recruit can look a lot different for our final ranking after their senior year championships and all-star games are played.
We have spent the last several weeks working on this 2024 update, so it will reflect the most accurate and current representation of the recruiting cycle. This work has resulted in 24 players making their debuts in the 2024 On3 150. We have also continued collecting data on the previously ranked players, putting eyes throughout the 2024 On3 150.
These players are halfway through their junior years of high school. Our next 2024 On3 150 update will come around the start of travel ball season. There is still a lot of basketball to be played.
The goal of rankings at On3 is to assess a prospect's long-term potential. As we continue forward, a player's performance on the court and their continued growth will outweigh these early rankings. Again, every player's arc is different, and each ranking is a snapshot in time.
Here are some storylines from the second update of a full 150 for the 2024 class.
Grading the 2024 On3 150
The basketball player rankings scale is as follows: Five-star prospects have grades 98-100, four-star recruits have grades 90-97, and 80-89 grades are for three stars.
The first 12 prospects are five stars with a rating of 98 or higher. The rankings for current cycles will be updated on a regular schedule throughout the year, with around 20 five stars by the final ranking of a cycle. Our goal is to assess a prospect's long-term potential in college basketball, ultimately manifested by the NBA draft.
The battle for No. 1
This is the third consecutive cycle Tre Johnson has been No. 1 for the 2024 class. When On3 first made the move to put Johnson at No. 1, it was a pretty easy discussion despite being the only entity to make the move. Johnson was coming off a Kentucky EYBL Session, playing up on the 17u Circuit, where he averaged 19.4 points and shot 42.9 percent from three.
That initial move was made for our June update. Come October, and the 6-foot-5 guard had done nothing but solidify his spot at the top of the class. The discussion was short.
For this update, the discussion was a little longer. No. 2 ranked Dylan Harper is coming off an MVP performance at the John Wall Holiday Invitational and followed that up with a 36-point outburst on Showtime against 2023 five-star DJ Wagner. No. 3 ranked Ian Jackson has been on a tear, with early season stops in Texas, Arizona, and at home in New York City. And No. 4 ranked Flory Bidunga has simply been dominant against all-comers to start his high school season (19.2 ppg, 12.6 rpg, 4.8 bpg).
Yes, Tre Johnson remains at the top. However, as we continue to gain clarity with this class and who these players are becoming, the discussions seem to get a bit longer. Watch to see how the high school season ends and if one of Harper, Jackson, or Bidunga will challenge Johnson.
New five-stars
For this update, On3 decided to move the five-star cut line from ten to 12 players. While some players were shuffled around a bit, we felt there were more guys who earned the distinction with their growth and consistent high-level performances. Every class is different; we do not have a set or distinct number of five-star rankings for players. The players earn that through their play against their peers, some classes have less, and some have more.
For this update in the 2024 class, three players earned their fifth star.
No. 8 SF Annor Boateng
Height/Weight: 6-5/205
High school: Little Rock (AR) Central High
Previous On3 150 ranking: No. 16
No. 9 SF Bryson Tucker
Height/Weight: 6-7/195
High school: Bradenton (FL) IMG Academy
Previous On3 150 ranking: No. 13
No. 10 SF Liam McNeeley
Height/Weight: 6-7/205
High school: Montverde (FL) Academy
Previous On3 150 ranking: No. 20
Making their debut
Twenty-four players made their 2024 On3 150 debuts with this update. The highest player debut is PF Sebastian Rancik out of San Juan Capistrano (CA) JSerra Catholic at No. 68. In total, seven players made their debuts inside the top 100.
No. 68 PF Sebastian Rancik
Height/Weight: 6-9/200
High school: San Juan Capistrano (CA) JSerra Catholic
No. 76 C Khaman Maker
Height/Weight: 7-0/210
High school: Las Vegas (NV) Trinity International
No. 77 SF VJ Edgecombe
Height/Weight: 6-6/180
High school: Long Island (NY) Long Island Lutheran
No. 83 PF Chris Tadjo
Height/Weight: 6-8/230
High school: NBA Academy Latin America
No. 94 SF Billy Richmond
Height/Weight: 6-4/180
High school: Camden (NJ) High
No. 95 SG Jeremiah Johnson
Height/Weight: 6-3/170
High school: Mt. Pleasant (UT) Wasatch Academy
No. 100 SF Jaiden Glover
Height/Weight: 6-5/165
High school: Elizabeth (NJ) The Patrick School
Where is the talent?
After updating these rankings, it is always interesting to go back through and see where the talent comes from. Thirty-three of the fifty states has at least one player in the 2024 rankings. There are also three players from Canada and one from the NBA Academy Latin America. Four states have more than ten players, and eleven states have five or more players represented.
Here are the top five states.
t1. Florida (13)
t1. North Carolina (13)
t3. California (11)
t3. Georgia (11)
t5. Texas (9)
t5. Arizona (9)
These states probably come as no surprise as each has traditionally produced high-level talent. The remaining states with five or more players represented are Virginia (8), New York (6), Pennsylvania (6), Massachusetts (5), Maryland (5), and Utah (5).