College Football Odds: Win totals released for several top teams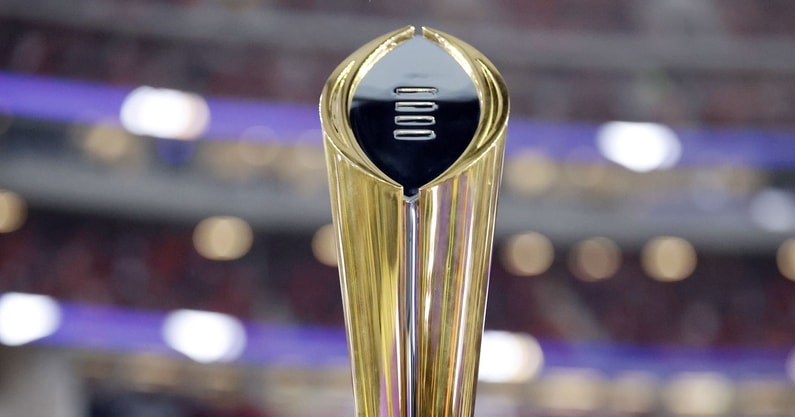 The FanDuel Sportsbook has released over/under win totals for several teams in college football, setting the bar for the team's success in 2023. And there are some compelling lines.
Among those listed are defending national champion Georgia, playoff teams Ohio State and Michigan and several other would-be contenders. There's also a listing for a team that won just one game a year ago but has Deion Sanders taking over at the helm now too.
Without much further ado, let's check out the over/under win totals below.
2023 College Football Over/Under Win Totals
11.5 – Georgia
The Bulldogs went back to back during the 2022 season, using the wealth of talent that coach Kirby Smart has assembled and riding veteran quarterback play to another national championship. The veteran quarterback is gone but the stable of top-notch talent certainly is not, and few teams in college football know how to win like Georgia does at this point.
10.5 – Michigan
The Wolverines secured a playoff berth for the second straight season but couldn't power past the semifinal round, falling to TCU in a thrilling game. The good news for Michigan is that starter JJ McCarthy is back at quarterback, and there's a decent bit of firepower returning beside him.
10.5 – Ohio State
The Buckeyes reached the playoffs last year but had the unfortunate distinction of running up against the Bulldogs. There's still plenty of talent returning for Ohio State, though quarterback CJ Stroud is now off to the NFL. But can the Buckeyes navigate another difficult schedule?
9.5 – Penn State
The Nittany Lions are a team that could definitely benefit from a quarterback change, with the mega-talented Drew Allar set to take over. Penn State needs something to push it over the hump, as it hasn't quite been able to navigate past Michigan or Ohio State the last couple years. And that's essentially the question with this over/under total.
8.5 – Notre Dame
The Fighting Irish had a disastrous start to their 2022 season but finished on a really strong note. A powerful running game was tough for anyone to stop by year's end. Can Marcus Freeman's bunch pick up where it left off and come out of the gates strong in 2023?
8.5 – LSU
Few teams did more with less than LSU last season, with first-year coach Brian Kelly leading the Tigers to the top of the SEC West standings and an SEC Championship Game appearance in his first year. Quarterback Jayden Daniels is back, as is defensive superstar Harold Perkins. Can the Tigers push past a title game appearance this time?
8.5 – Tennessee
The Volunteers took the nation by storm as Josh Heupel's high-powered passing attack worked to perfection with quarterback Hendon Hooker pulling the strings. Joe Milton is the favorite to take over. Can he have the same high-level success that Hooker did and make the Volunteers equally dangerous this fall?
8.5 – Iowa
Despite having one of the nation's most frustrating offensive outfits in 2022, Iowa got by with excellent defense and special teams more often than not. The Hawkeyes took a trio of quarterback transfers, including former Michigan starter Cade McNamara. So the offense could get a jolt of life that way.
4.5 – Colorado
The Buffaloes were one of the least talented Power 5 teams out there in 2022 and that won't change overnight, no matter how many reinforcements new coach Deion Sanders adds. There's no doubt he'll add some, though. If the Buffaloes and pick up some early momentum, they're a team that could ride that early confidence to a better win total.