Field of 68 ranks Top 25 returning college basketball players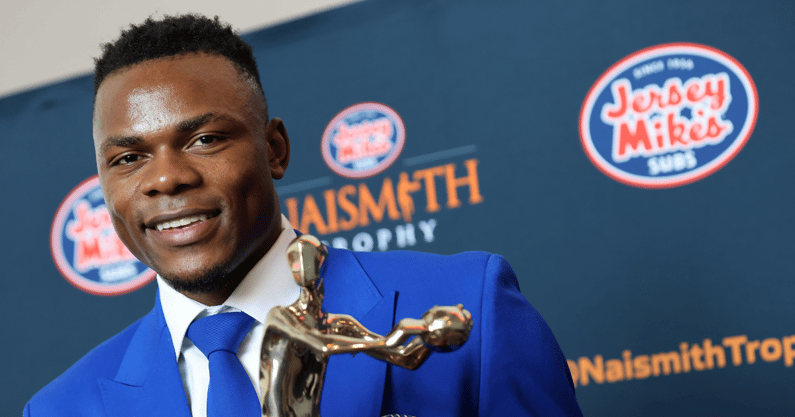 The Field of 68, a college basketball podcast and media network, has produced their list of top 25 players in the country heading into the 2022-23 season. Of course, the reigning national player of the year and bionic rebounder Oscar Tshiebwe clears all others to rightfully assume his spot at number one.
The rest of the list is quite intriguing. Here's the full rankings of the top guys for the upcoming college basketball season, via Field of 68:
*Name (Position, Class) | School
Recap
There you have it. A trio of senior bigs lead the way as Oscar Tshiebwe, Drew Timme and Armando Bacot return to toast to the post as elder statesmen. Along with Bacot, North Carolina's backcourt tandem of RJ Davis and Caleb Love also crack the list to give the Tar Heels the most guys on the list at three.
UCLA, Baylor, Miami, Houston all put two guys each in the list as well, with Houston and Carolina as the only schools to have multiple top-15 players.
The most striking big-picture takeaway for me is the lack of youth on the list. Sure, preseason player rankings and awards lists tend to favor proven veterans over younger guys' whose stature is based more on potential than prior production. But there's just one sophomore on the entire list, and the rest is mostly seniors — with several being fifth or even sixth year guys.
You can thank NIL, the Transfer Portal and COVID for that. Old school bigs without much NBA stock can hang around and make millions of dollars off NIL now rather than make a few hundred thousand bussing around the country in busses playing in the G-League. Also, the Portal has allowed players to move schools more easily, allowing talented mid-major guys to play on a bigger stage as an upperclassmen.
Lastly, college basketball is so much older than it was before the pandemic. All these extra years being granted are allowing talented players to stay in school for five or six years as opposed to four. Plus, as we mentioned with the portal and NIL, staying in college longer is now more enticing. So a lot of great players are using extra years while better players are staying more years due to the benefits of new rule changes over the past few seasons.
Crazy loaded year of talent and experience among the best in the game heading into 2022-23.