Underdogs make for irresistible stories – but Final Four might be overdoing it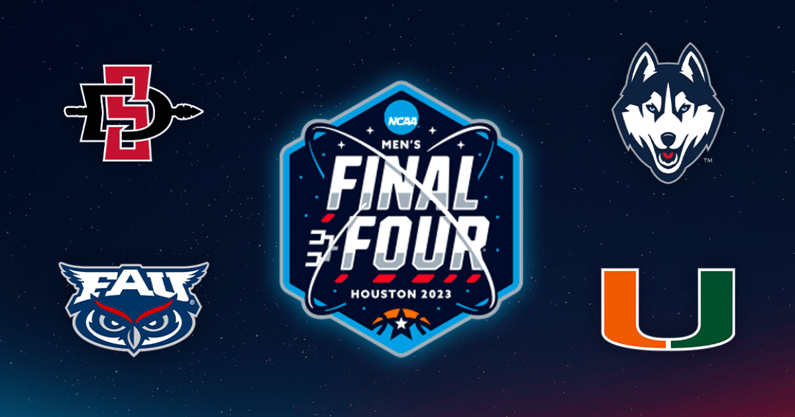 Underdogs make for irresistible stories. They sing the American hymn of overachievement, of beating the odds, of can-do.
Long before Mike Krzyzewski became the overlord of college basketball, he was a young coach leading a dormant program to the top of the sport. Dabo Swinney talks about "Little Ol' Clemson" for a reason. Ten years ago, the Tigers were the Little Engine That Couldn't (Beat Florida State). Swinney charmed us all until he won two College Football Playoffs. When Swinney says "Little Ol' Clemson" these days, he elicits eyerolls.
Duke knocked off unbeaten and defending champ UNLV in the 1991 Final Four, and Clemson dethroned Alabama to win the 2016 national championship, and the Blue Devils and the Tigers quit being lovable to anyone outside of their fan bases.
This comes to mind because after two draining, entertaining, give-us-more weeks of March Madness, we have a 2023 Auto-Fill Final Four. Any of us would have done better with a blindfold and four darts. For the first time since the NCAA began seeding teams in 1979, there are no No. 1, 2 or 3 seeds in the Final Four. My extended-family March Madness pool probably will be won by a poet who has spent the past two weeks apologizing for her success.
Underdogs will fill three of the four locker rooms in NRG Stadium in Houston, and as much fun as it has been, I must have a hangover because something feels amiss. I say this as an underdog lover of longstanding: You can't have a David without a Goliath.
We don't remember Butler because Gordon Hayward almost made a halfcourt shot at the buzzer to win the 2011 national championship. We remember Butler because Gordon Hayward almost made a halfcourt shot at the buzzer to win the 2011 national championship by upsetting Duke.
Saturday's national semifinals will match the No. 5 seed in the South (San Diego State) against No. 9 in the East (FAU), and No. 4 in the West (UConn) against No. 5 in the Midwest (Miami). Last year, three of these four seeds lost in the first round. This year, they haven't lost, period.
The beauty of March Madness is its allure to the casual fan, an allure held in place by brackets. The American Gaming Association predicted 56.5 million Americans would fill out an NCAA bracket this month. When the College Football Playoff expands to 12 teams, you think 56.5 million people are going to fill out brackets? Nope.
If you took last year's final CFP ranking and created a 12-team bracket, only TCU and Tulane might have been considered underdogs. As someone replied to me on Twitter last week, the first Cinderella team that wins the College Football Playoff will be No. 10 seed Ohio State.
But now that every bracket outside of Connecticut, south Florida, and San Diego County has blown up, what's going to keep the casual fans in place for the Final Four?
My brackets disintegrated when the top seeds got sent home, but I'm going to watch Saturday because it's the Final Four. And I say that knowing full well that if this were December, this field would look more like the Orange Bowl Basketball Classic, which in 2011, saw Miami beat FAU 93-90 in overtime.
Actually, if this were December, FAU-San Diego State would be the New Mexico Bowl.
I'm not saying that San Diego State and FAU and Miami don't belong in the Final Four. They should be there, just as TCU deserved to play Georgia in Sofi Stadium last January. What I'm saying is that David vs. David is not a compelling story. We are fans of Ted Lasso's AFC Richmond because we want them to beat Man City and Arsenal, not Bournemouth and Southampton. CBS didn't wait. The NCAA announced Sunday, before the network knew who would make the Final Four, that FAU would play in the early semifinal window against San Diego State or Creighton. On the first weekend, the second-round matchup between FAU and FDU was hidden on TruTV only because CNN+ went out of business.
There are plenty of theories pertaining to the pandemic and the portal as to why March Madness went mad this year. And yet we relearn the same lesson every March, that experience counts, especially in the era of portals and one-and-dones. San Diego State is a veteran team. Miami reached the Elite Eight a year ago. UConn is a good mix of talent and experience. FAU has won 35 games this season, more than any team in Division I.
We did get some luck with the matchups Saturday. The lesser-known schools are on one side of the bracket, the bigger names on the other. Maybe UConn, which has won more NCAA men's basketball championships (four) than any program in the past 25 years and won its four early-round games by an average of 22.5 points, will beat Miami on Saturday. The Huskies may be a No. 4 seed, but this season, that counts as royalty.
If UConn is standing between the FAU-San Diego State winner and history, we'll get David against a Goliath Lite – great taste, less auto-filling next year, please.