Five 2022 basketball prospects that ascended during the live period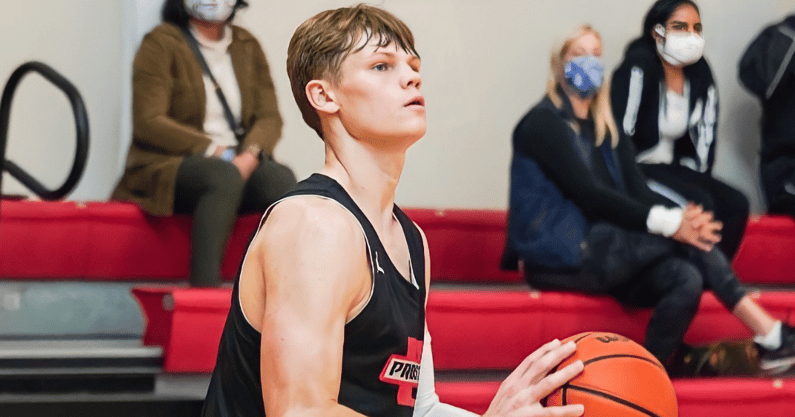 The June and July live period was a chance for many top basketball prospects to ascend. College coaches were back in the stands for the first time in over a year.
In what was a wild month and half on the AAU circuit, several prospects made the most of the opportunities.
The biggest stock risers included two names known by many, and three that came out of nowhere.
Brendan Hausen, SG, Amarillo (Texas) Amarillo High
Hausen lit up the Peach Jam, and every other event he played this summer. The 6-foot-4 sharpshooter possesses a terrific feel for the game on both ends. His ability to play without the ball, and create space translates to the high-major level. Moreover, his efficiency has also led to ascending as a prospect. Hausen picked up July offers from Villanova, Oregon, Creighton and Arizona State, among others. Hausen made one June official visit, going to check out Steve Alford's Nevada program. Oklahoma and Texas Tech are working hard to keep Hausen close to home. Texas or Stanford could be the next to offer. 
Daniel Skillings, SG, Philadelphia (Pa.) Roman Catholic
The 6-foot-5 off guard came out of nowhere this summer to become a high-major prospect. A combination of very long first step, ability to finish with either hand in traffic and a good feel for the game. Furthermore, he displayed a smooth stroke that helped lead to the fast rise. He capped off a strong live period with an impressive week at NBPA Top 100 Camp. Now, the smooth guard will begin to be considered among the top 2022 basketball prospects in the class. Skillings run of July offers began with Cincinnati July 9. Miami, Saint John's, Georgia, N.C. State and Minnesota joining the offer party last month. 
Yohan Traore, PF, Paris (France) Prolific Prep 
The 6-foot-9.5 skilled four-man began blowing up this spring playing with a loaded Southern Assault squad. Traore is a very confident offensive player. He knocks down corner catch and shoot three's, converts in the mid-range and plays through contact. In transition, Traore looks to finish with dunks. His efficiency stands out on a consistent basis. The July offers include UCLA, USC, Oregon, Arkansas, Tennessee and Louisville. Prior offers include Texas Tech, TCU, Kansas and Houston. Traore was on campus at Texas and TCU in June. 
Rowan Brumbaugh, PG, Washington (D.C.) Northfield Mount Hermon
The 6-foot-4 point guard had the ball on a string throughout the live period. He's blessed with elite feel for making the correct play, and adds sneaky quickness. When he begins consistently knocking down the three off the bounce, his game will go to another level. Brumbaugh competes on the defensive end. He plays under control on both ends of the floor. The July offer list includes Kansas, Texas, Maryland, Creighton, Vanderbilt and Miami. He made June official visits to Georgetown, Northwestern, Minnesota and Wisconsin. He lives within walking distance of the Georgetown campus. 
Anthony Black, CG, Coppell (Texas) Coppell High
The 6-foot-6.5 guard can often times be overshadowed by good friends Keyonte George and Texas commit Arterio Morris. When one digs in and evaluates Black, his skill set is among the best in the 2022 cycle. He can guard multiple positions, rebounds extremely well from the guard spot and finishes in transition. Black wants to play the point, but On3 likes him best off the ball where his skill set can flourish. The talented guard is one of the top basketball prospects in the class, period, Black scored four huge offers starting in late June. Specifically, Duke, Memphis, Kansas and Gonzaga offered during the live period. The son of former Baylor standout Terry Black made June official visits to Texas, Oklahoma State and Iowa State. 
Also considered:
Cason Wallace, CG, Richardson (Texas) Richardson 
Jordan Walsh, SF, Dallas (Texas) Southern California Academy