Five recruiting questions and answers, including who signs the No. 1 class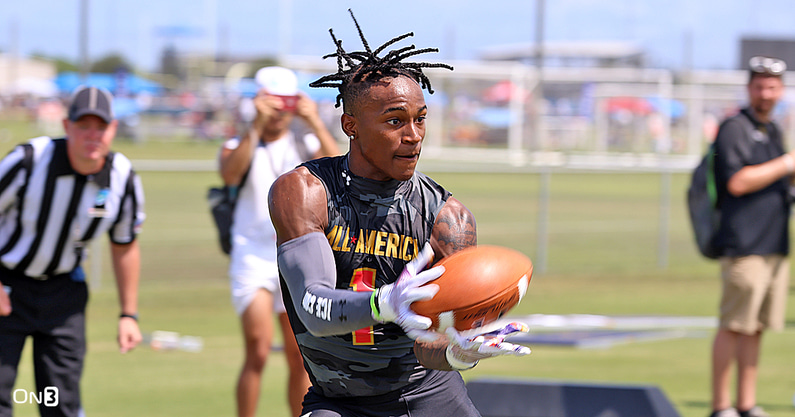 There are several major recruiting questions yet to be answered with 22 days remaining until the early signing period begins. 
Maybe the biggest question remaining if how the On3 Consensus Team Recruiting Rankings will shake out. The race for No. 1 is seemingly coming down to Georgia, Alabama and Texas A&M. 
National Scouting Director Charles Power and myself provide the best answers to some burning questions leading up to December 15. 
Who will end up with the No. 1 class?
Charles Power: There's a lot of moving parts, but I think it might come down to Alabama and Texas A&M. Looking at the uncommitted five-stars in the On3 Consensus like Domani Jackson, Evan Stewart, Shemar Stewart, Harold Perkins and Denver Harris, the one commonality is Alabama and/or Texas A&M is heavily involved with each.
The Crimson Tide and Aggies are currently running No. 2 and No. 3 respectively in the On3 Consensus Team Rankings. Alabama is pacing like the likely top team, but if A&M wins most of those five-star battles, the Aggies could make a serious run at the top spot. 
Gerry Hamilton: Three weeks ago, I would have said Georgia. Now I'm leaning toward Alabama finishing on top with Texas A&M making a real run at a first-ever No. 1 class. The Crimson Tide are in a good position to add five-stars and several On3 Consensus top-150 ranked prospects down the stretch. Jackson and Earl Little Jr. continue to be trending to Alabama. Same for Khurtis Perry. Alabama is in the mix with Marvin Jones Jr., Enai White, Anthony Lucas and several others. Nick Saban will close strong, as is always the case. 
Texas A&M feels good about Shemar Stewart, Harold Perkins, Evan Stewart, Anthony Lucas and Jacoby Mathews. Even Denver Harris is now seriously considering the Aggies after a visit last weekend. The recruiting momentum is building with the class down the stretch. If the Aggies close on three of the six, they will have a legitimate chance to upset Alabama and Georgia for the top class. The LSU head coaching hire could play a role here with Perkins, Harris and Mathews, however. 
What class do you really like that is flying under the radar? 
Power: If we're going outside the top 10, I'd pick Kentucky. The Wildcats will have to fend off some blue bloods for Kiyaunta Goodwin's signature, but Goodwin and Nikolas Hall would give Mark Stoops one of the best offensive tackle combos in the 2022 recruiting cycle. Tyreese Fearbry, Alex Afari and Keaten Wade are three rangy, athletic defenders and four-stars for On3. Kentucky also has the top three in-state prospects committed in wide receiver Dane Key, wide receiver Treveyon Longmire and offensive lineman Grant Bingham. They could also be positioned to land On3 five-star wide receiver Barion Brown. 
Hamilton: Arkansas is making the most of an ascending season on the field under Sam Pittman. The flip of four-star speedster Isaiah Sategna was huge for down the stretch momentum. The Razorbacks have accomplished the No. 1 goal: winning in state. The staff has commitments from eight of the top 10 prospects in the state. The top-20 class could get better if the staff can close on four-star receiver Samuel Mbake. 
What team has the most impressive position group currently? 
Power: I'm going with Clemson's defensive backs. It's a strong year at DB, especially corner, and Brent Venables has landed one of the better groups at the position that I can recall. They have two cornerbacks we have rated as five-stars in Daylen Everette and Toriano Pride. Jeadyn Lukus is another high-upside, big cornerback from the South Carolina upstate who is also a top-100 prospect. I'm looking forward to seeing those three in all-star settings. Everette is rarely tested at IMG but has some outstanding measurables and athletic markers. Pride has the best senior video among corners, in my opinion. We haven't seen a ton of Lukus, but he's intriguing with his length and fluidity. Clemson also has On300 prospects in Keon Sabb (who could be a hybrid safety/linebacker in the Dorian O'Daniel/Isaiah Simmons role) and Sherrod Covil. It's a great defensive back class. 
Hamilton: The Georgia recruiting class will have a similar headline as the Bulldogs team this season. A dominant group of defensive linemen. Kirby Smart's class is loaded with defensive line and EDGE talent that will be future NFL Draft selections. There are currently four On3 Consensus top-170 prospects on the commit list led by five-star Mykel Williams. Williams is joined by No. 42 prospect and zero/one technique Bear Alexander as headliners. EDGE and No. 170 Darris Smith is one of the top athletes at the position in the class. And this class of linemen will get even better in December. The Bulldogs are heavy favorites for On3 Consensus No. 131 Christen Miller. Georgia is also in the fight for five-star Shemar Stewart with Texas A&M, as well as Enai White. 
Which program or couple of programs need to hit on a quarterback in the 2022 cycle? 
Power: I've thought Notre Dame and Penn State are a top quarterback away from being legitimate playoff contenders for a few years — not a team that sneaks in fourth and then gets handled easily in the semi finals. Penn State might have that guy in Drew Allar. We currently think he's the top quarterback in the cycle and he's coming off a very strong senior season that saw him continue to improve. Notre Dame is going to have to throw the ball better in order to score year in and year out with playoff teams.
The Irish are involved with LSU commit Walker Howard, and they recently offered USC commit Devin Brown. If they were to land either of those two, I'd think they're the odds-on favorites to be the starter in South Bend, perhaps sooner than later.
Two other schools I'd throw in are Florida State, and I didn't think I'd say this, Clemson. Mike Norvell has been using duct tape to get his offense going and really just needs some consistency behind center. AJ Duffy could provide that. At Clemson, DJ Uiagalelei has looked surprisingly shaky and there's little depth behind him. Cade Klubnik is a high-floor, reliable quarterback who should help fill the gaps a bit. Texas A&M could also be in there, given we haven't gotten to see what Haynes King looks like. But the Aggies' 2021 quarterback signee Eli Stowers has already moved to tight end, so hitting on Conner Weigman became much more important. 
Hamilton: I'm piggy backing with Power on Texas A&M. For all the big-time recruiting talent Jimbo Fisher has brought into the Aggies program, he needs Conner Wiegman to hit. While high hopes remain for Haynes King coming off the season-ending injury, hitting on Weigman would certainly set up the future. 
Staying in the state of Texas, Steve Sarkisian simply has to hit on a signal-caller. On3 Consensus four-star Maalik Murphy is in the class but will need time to develop. The Longhorns are in the mix for Devin Brown, along with Ole Miss, UCLA and Ohio State. This is a recruitment Sarkisian needs to win with the uncertainty surrounding the Arch Manning recruitment. 
What rolling two-year classes do you like the most? 
Power: 2021 class and 2022 class, so far – Alabama signed the top class in 2021 and is contention for the top class in 2022, so I'll start there. The hallmark of Nick Saban's classes in my opinion is the depth and well-rounded distribution of talent. It's almost like he signs a starting 22 each year. There aren't often holes in the position groups and that manifests itself on the team's 85-man roster.
Ohio State got some big-time playmakers in the 2021 recruiting cycle. We'll see how they finish, but I probably like their 2021 class a bit more than the 2022 group as things stand right now. Of course, Quinn Ewers' reclassification changes that, too. I also really like what Notre Dame has done in the last two classes. The Irish have been lights out on the defensive side of the ball and continue to recruit the offensive line at a high level. They're a few playmakers away from having a true annual playoff caliber roster, in my opinion. 
Hamilton: This is the first season that Georgia looks like a more talented team on the field than Alabama. Especially on the lines, and defensively. The 2021 recruiting class for the Bulldogs and the 2022 class are going to keep that trend in Athens. The back-to-back classes on the defensive line and at linebacker will almost assuredly continue that ascension. The 2022 class is a good mix at defensive back and on the offensive line with the 2021 class. Branson Robinson is also a very good fit at running back.