5-star 2023 athlete Samuel M'Pemba hints at impending commitment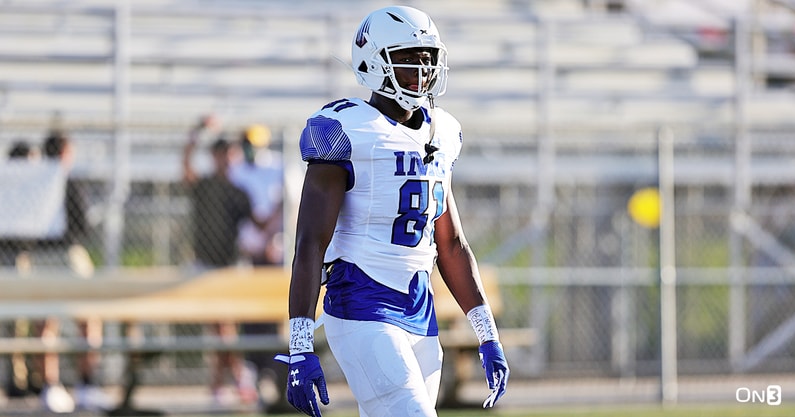 St. Louis (Mo.) IMG Academy athlete Samuel M'Pemba in one of the country's top 2023 prospects, but his recruitment largely remains a mystery.
The 6-foot-4, 230-pounder holds more than 30 offers and narrowed his list down a top 12 in mid-September. That list included some of the biggest programs in college football: Alabama, Georgia, Florida, Florida State, LSU, Miami, Michigan, Missouri, Notre Dame, Oklahoma, Penn State and Texas A&M.
Two weeks later, he added Oregon to the list, and now, it appears he'll be making his commitment soon. M'Pemba, the No. 13 overall prospect in the 2023 On300, tweeted, "Commitment coming soon …….. stay tuned" Tuesday afternoon. He is fresh off a visit to Ole Miss — a school not in his top 13 and that he hasn't reported an offer from — this past weekend.
"(Ole Miss has) great coaches with a lot of knowledge," M'Pemba told On3's Jeremy Johnson. 'We have a pretty good relationship as of right now."
M'Pemba also took a visit to Notre Dame in early October and told 247Sports he was highly impressed by the Fighting Irish. That followed a visit to Florida in early September to see the Gators host Alabama.
"I feel real good about them," M'Pemba said of Notre Dame. "After the game, I feel like I would be happy if I were to choose Notre Dame. I feel like I'll come back for another visit. I'm still very open to everyone though."
Samuel M'Pemba is one of the country's most versatile athletes
Although Notre Dame is primarily recruiting him to play on the defensive side of the ball in their hybrid "Vyper" position, M'Pemba has played exclusively on offense this season for IMG.
On3 Director of Scouting and Rankings Charles Power said Samuel M'Pemba has his highest ceiling as a pass rusher. But because of the team's incredible depth on the defensive side of the ball, he has been used a tight end/H-back.
"He's a twitchy athlete — 6-foot-4, 230-pounds — who played as a pass rusher and receiver at Ladue Horton Watkins High in Missouri prior to transferring to IMG Academy," Power said. "Ultimately we feel his highest upside is as a pass rusher. The stature, length and quickness are there for him to develop into a top rusher over time. The biggest variable is when or if M'Pemba will start to make that transition. Still, he's a very physically-gifted prospect in the 2023 cycle."