Five-star OT Kadyn Proctor locks in official visits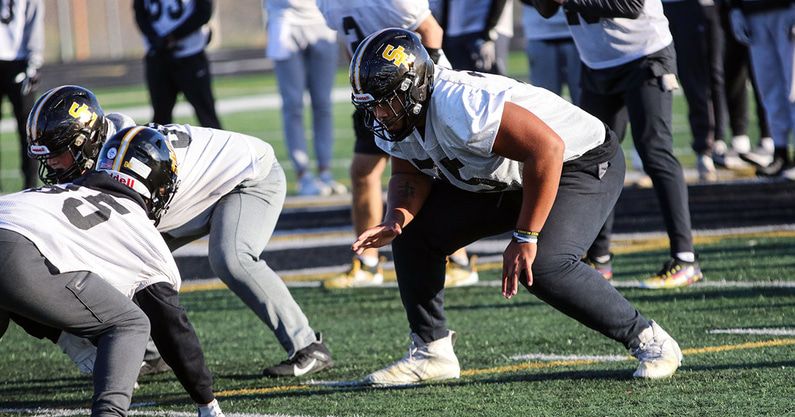 Five-Star offensive tackle Kadyn Proctor of Des Moines (Iowa) Southeast Polk High is one of the most sought-after linemen in the nation. Proctor now has all five of his official visits scheduled.
The 6-foot-8, 330 pounder spoke with On3 about each school his upcoming visit plans.
Kadyn Proctor official visits
Arkansas State (June 6-8): "Arkansas State coaches have been good to me since the jump, treating me like family," Proctor said. " I also wanted to take an official to them to go down and see my guy Jaxon, one of my HS teammates, and have fun on these five opportunities that I am given."
Alabama (June 10-12): "They were with me from the jump and took a chance on me," Proctor said. "Alabama believes that I can play for them right away if I do what I'm supposed to. I've been there once and can't wait to get back the second time."
Penn State (June 17-19): "Even though I've never been there, the relationships I have with the coaches are very good, and they have treated me right since they started recruiting me," Proctor said. "They want me in their system and want to help build me."
Oregon (June 24-26): "The first time I was there I didn't want to leave," Proctor said. "The coaching staff is amazing and everyone in the town is friendly. Coach Klemm is a man of his word and he tells me his needs instead of wants, and being truthfully honest with me. That's what I love about it, you're not gonna get bs from them."
Michigan (September 3): "To see an Offensive Line coach get to call the plays and be in tune with his guys on the line is crazy, and to win the Joe Moore award his first year at O-line says something," Proctor said. "Coach Moore always calls and checks on me and sees how I'm doing, not in just football but academically because that's what matters. I've been to Michigan once when I was 14 with a different coaching staff than it is now, and since coach Moore is there it makes me want to see it even more."
One school noticeably missing from this list of visits is the in-state Iowa Hawkeyes. Proctor explained why Iowa was left off the list of his official visits: "I have been to Iowa 10 or more times, so I will be taking officials out of state just to have those other experiences."
Kadyn Proctor Scouting Summary
The following is On3's scouting summary for Proctor:
Wide, physically-developed offensive tackle who excels as a mauling run blocker. Dominant at the point of attack, using strong and quick hands to neutralize opposing defensive linemen. Plays with a nasty mentality as a block finisher, planting defensive linemen in the ground with regularity.
Proctor ranks as the No. 6 player in the On3 Consensus, a complete and equally weighted industry-generated average that accounts for all four major recruiting services. He also tabs in as the No. 1 offensive tackle, and the top player in the state of Iowa.