Flip Watch: Top recruits being heavily pursued ahead of Signing Day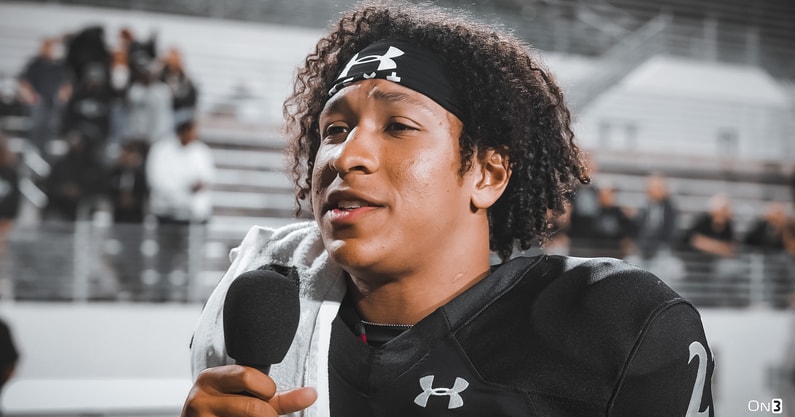 Less than 48 hours remain until the start of the Early Signing Period, and some of the country's most contested recruiting battles will come to a crescendo over the next few days. That includes both some of the top uncommitted prospects and a number already committed — putting them on Flip Watch.
Earlier this afternoon, five-star Oregon QB commit Dante Moore announced his flip to UCLA, and we expect more over the final days before the signing period kicks off.
5-star S Peyton Bowen
Consensus Ranking: No. 13
Status: Committed to Notre Dame
The Skinny: Rumors have swirled for months about Peyton Bowen's commitment to Notre Dame, but he continued to hold fast with the Fighting Irish. As we've gotten down to crunch time, the tide has turned in favor of Oklahoma. The Sooners are now considered strong favorites to flip the Denton Guyer five-star and add another elite piece to their recruiting class.
5-star DL David Hicks
Consensus Ranking: No. 7
Status: Committed to Texas A&M
The Skinny: Hicks shocked everyone by choosing Texas A&M over Oklahoma the first time, and the Sooners haven't given up their pursuit of him since. Oregon has also gotten in the mix and hosted him in Eugene a few weeks ago. Hicks father recently told Simmons that it would be hard for any school to flip his son, but both the Ducks and Aggies won't give up until the ink dries.
4-star S Tony Mitchell
Consensus Ranking: No. 63
Status: Committed to Alabama
The Skinny: Mitchell was an early commit for the Crimson Tide, choosing Alabama over Auburn, Texas A&M and a host of others back in June. He hasn't shied away from visiting other schools while committed though, including an official visit to Texas A&M this weekend. Auburn is very much in the mix for a late move as well.
4-star WR DeAndre Moore Jr.
Consensus Ranking: No. 101
Status: Committed to Louisville
The Skinny: Moore is one of the crown jewels of Louisville's top-25 class, but things have begun to splinter after head coach Scott Satterfield bolted for Cincinnati. Texas and Georgia have since become the main contenders to flip him, with the Longhorns considered to be the strongest threat as it stands today.
4-star CB Daylen Austin
Consensus Ranking: No. 105
Status: Committed to LSU
The Skinny: LSU head coach Brian Kelly made one of the better pulls of the cycle when he grabbed Austin out of California, and he has said all along that he's committed to the Tigers. But he recently visited Oregon, and the Ducks are working hard to keep him closer to home.
4-star CB Jayvon Thomas
Consensus Ranking: No. 107
Status: Committed to Texas A&M
The Skinny: Thomas surprised a lot of people when he announced his commitment early in April to Texas A&M. He's been solid with the Aggies since then, even as LSU and a few others worked for a flip. But behind the scenes, hometown TCU has made major strides with him and is looking for a last-minute surprise on National Signing Day.
4-star CB Caleb Presley
Consensus Ranking: No. 161
Status: Committed to Oregon
The Skinny: Presley has been pledged to the Ducks since July, when he chose Dan Lanning and Co. over Washington, Michigan State, USC and a number of others. But the in-state Huskies have been pressing the right buttons over the past few months, and he took an official visit there at the beginning of this month. Following an expert pick in the Huskies' favor from ScoopDuck.com's Justin Hopkins, Washington is trending to land the the nation's No. 18 cornerback.
4-star CB Kayin Lee
Consensus Ranking: No. 204
Status: Committed to Ohio State
The Skinny: Lee was a one-time Georgia commit — until he wasn't. After backing off his pledge to the Bulldogs, he joined up with Ohio State and added to a very talented defensive back class set for Columbus. But Auburn has remained lurking in the background, and the new staff under Hugh Freeze has made a big push as signing day approaches. He's still in the Buckeyes' class, but the confidence in him signing isn't as high as it once was.
4-star S Conrad Hussey
Consensus Ranking: No. 248
Status: Committed to Penn State
The Skinny: Penn State has made a living in Florida this cycle, and the Nittany Lions pulled one of the state's better players when they got a commitment from Hussey. But both Florida and Miami have pitched the close-to-home angle, and Hussey recently took a surprise official visit to Tallahassee.
4-star WR Andy Jean
Consensus Ranking: No. 364
Status: Committed to Florida
The Skinny: Jean first committed to Miami in late January after a visit, but opted to decommit in March to explore more options. Among those was Florida, which made him one of their top wide receiver targets this cycle. He gave his commitment on July 30 to Billy Napier, but the other major in-state program, Florida State, has been chipping away at him in recent weeks. He has now been to Tallahassee twice in the past month, and there's serious buzz about a late flip in the 'Noles favor.