INTEL: Ranking the contenders for 5-star Flory Bidunga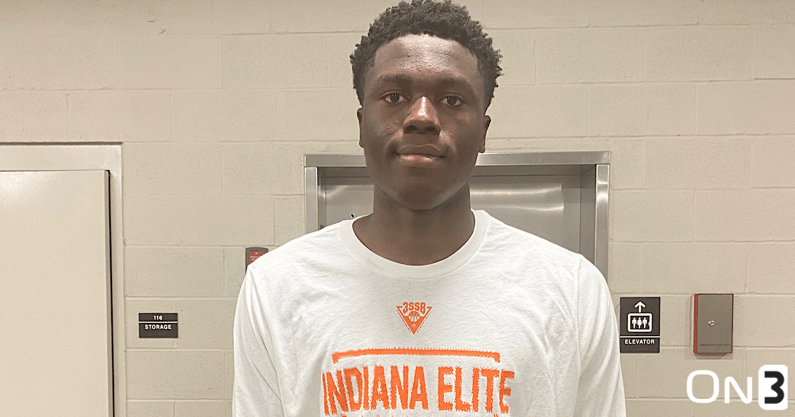 Flory Bidunga is the No. 4 ranked player in the newly updated 2024 On3 150.
Bidunga is a physically impressive post. At around 6-foot-9, he averaged 18.8 points and 8.9 rebounds on the Adidas 3SSB 16u circuit. He blocked 3.1 shots and shot 76.4 percent from the field.
Bidunga's recruitment has been relatively quiet since bursting into the scene in April. The likes of Purdue, Cincinnati, Kansas, Indiana, and others have been announced by the Kokomo (IN) High center as offers.
While Bidunga is just a junior, and he has just started taking visits, there is intel to go through to rank the contenders.
1. Cincinnati
Bidunga is on an unofficial visit to the Bearcats this weekend. Wes Miller has had success with active and athletic centers and the program is set to move to the Big 12.
Cincinnati also recently hired the son of Bidunga's travel ball program director giving familiarity and comfort to the international Bidunga.
Cincinnati's chances: 85 percent
2. Michigan
Anytime Juwan Howard recruits a big, the recruiting world should take notice. Bidunga has taken an unofficial visit to Ann Arbor as well.
Michigan's chances: 5 percent
3. Butler
Butler is local to Bidunga's Kokomo, Indiana home and the five-star has taken an unofficial visit.
Butler's chances: 5 percent
4. Indiana
Like Butler, Bloomington is local for Bidunga. The center has planned an unofficial visit for Indiana's version of Midnight Madness.
Indiana's chances: 5 percent
Final thoughts
Flory Bidunga's process had just started, but even with no official visits, a lot of momentum is pointing toward Cincinnati.
The top five player in the 2024 class us a physical force, and a great fit in Wes Miller's pressing and up and down system.
The familiarity Bidunga has with Drew Adams was the final piece to this one.
On3's Recruiting Prediction Machine
I have placed my expert pick in On3's Recruiting Prediction Machine (RPM) for Flory Bidunga to choose Cincinnati. I set my pick with a 90 confidence level.
The On3 engineering group teamed up with Spiny.ai to create the industry's first algorithm and machine learning-based product to predict where athletes will attend college. Starting from the ground up, On3 built an entirely new product that utilizes data, human expertise, and machine learning.