Football fans get another chance to see Arch Manning on national TV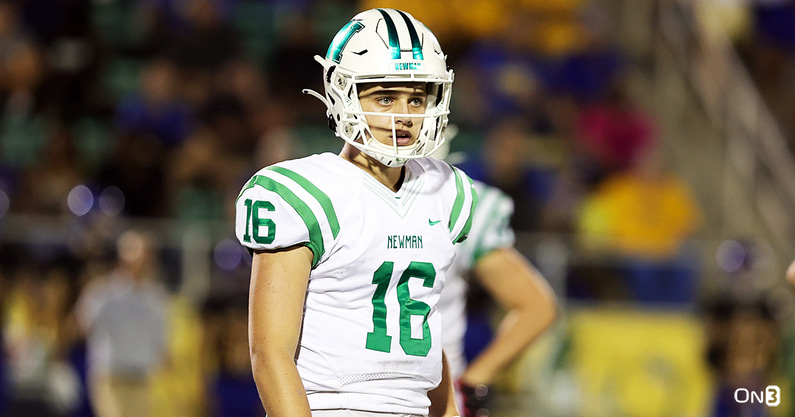 Arch Madness now stretches into November. College football fans wanting a glimpse of the future can watch Five-Star Plus+ junior quarterback Arch Manning on national television and a live stream Friday night.
Manning and his New Orleans Isadore Newman Greenies (7-2) travel west on Interstate 10 to face off against Lafayette (La.) Christian Knights (9-1) in the semifinals of the Division III Louisiana playoffs.
The game, which kicks off at 7 p.m. CT Friday night, will be carried live on YurView Louisiana – Cox channel 4 in Lafayette, Baton Rouge and New Orleans – and on Yurview in other Cox markets. A free live stream of the game will also be available on Yurview's website at this link.
Arch Manning is the scion of one of America's top sporting families. Manning is the son of Cooper Manning, the nephew of Peyton and Eli, and the grandson of Archie. Peyton, Eli and Archie were all-SEC stars who reached the NFL. Eli won two Super Bowl MVPs, while Peyton landed in the Pro Football Hall of Fame.
Manning has thrown for 1,675 yards and 24 touchdowns for Isidore Newman this season. The fifth seed in the playoff bracket, the Greenies now faces top-seeded Lafayette Christian, which beat Manning and Newman in last year's state semifinals.
The Knights have won the last four straight state titles. They are the most dominant program in the state of Louisiana and are looking to be only the second school in state history to win five consecutive titles.
Where things stand in Arch Manning's recruitment
Earlier this fall, On3 was the first in the industry to offer early expert predictions on where Arch Manning was leaning. And at the time all indications were that the Texas Longhorns were in good shape.
However, Chad Simmons, On3's Director of Recruiting, says in his latest intel that Georgia has made a move in Manning's recruitment.
"I am hearing a lot about Georgia, too, though," Simmons wrote. "Even more about Georgia in recent weeks than I am about Texas. Ole Miss is another school that may be higher on the list than some thought just a month ago. Alabama is still very much in this, too. Clemson looks to be down the list some based on one source close to this."
Ole Miss head coach Lane Kiffin was in Baton Rouge last weekend watching Manning take on Episcopal in the quarterfinal round of the Division III state playoffs. Manning put on a show for the Rebels' coach, throwing a touchdown strike reminiscent of his uncle Peyton.
Already this season, Manning has received visits from Texas head coach Steve Sarkisian, Alabama offensive coordinator Bill O'Brien, and Georgia head coach Kirby Smart.
That's in addition to the campus visits he has taken to Alabama, Clemson, Georgia, Ole Miss and Texas. It's no stretch to say his recruitment might be the most hotly contested one in the country right now. And there's still more than a year until he can sign.