Football schedule format could be turbulent waters for smooth-sailing SEC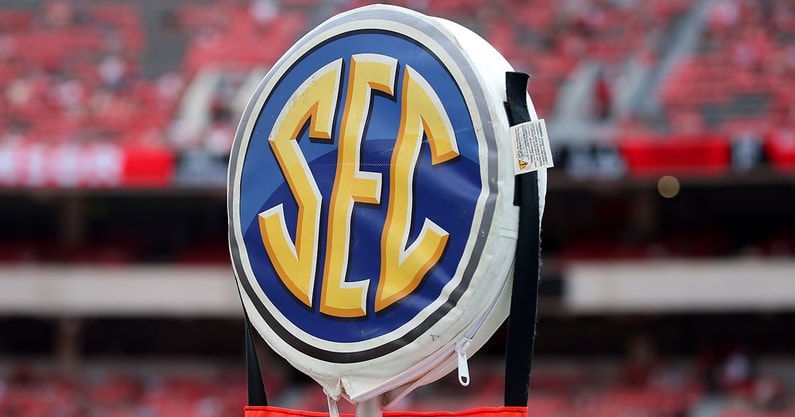 ACC members spent their spring meetings quelling mutiny. Pac-12 members spent the last year seesawing between trust and panic. The Big 12 is charting a path with four new members, two lame ducks, and no bellcows. The Big Ten has a new commissioner trying to untangle the television deal his predecessor sort of completed.
And the SEC continues to glide across the seas, a battleship gleaming in the sunlight.
The Southeastern Conference convenes for its annual spring meeting in Destin next Tuesday with one big issue that it may not solve and no existential crises.
In college athletics these days, a lack of drama is multiplication by subtraction.
"Humdrum is a good way to put it," associate commissioner and chief spokesman Herb Vincent said.
The league's one big issue is the future of its conference schedule, a discussion that has continued for so long that it should be produced by Netflix (Season Three: Eight Games or Nine?).
The schedule length is a big deal to anyone interested in competitive equity and, hence, the coming 12-team College Football Playoff. The public wants the SEC to play a nine-game schedule. The rest of college football wants the SEC to play a nine-game schedule. But like any good miniseries, the plot continues to twist and turn.
The SEC thought that more conference games would equal more money from ESPN, the network that will begin paying $927 million to the league next year. But ESPN hasn't risen to the bait.
9-game schedule could end historic rivalries
In a nine-game schedule, each team would have three permanent opponents, then alternate the other 12, six per year. The discussion of permanent opponents made at least one team switch sides in the league debate.
Alabama head coach Nick Saban has been saying for more than a decade that he wanted the Crimson Tide to play nine SEC games per year (and memory suggests he once said he'd be fine with 10). But Alabama began scheduling two Power Five non-conference opponents from 2025 on (for instance, Florida State and Wisconsin in 2025, Ohio State and Oklahoma State in 2028). Then the league suggested earlier this year that in a nine-game schedule, Alabama's permanent opponents would be Auburn, LSU and Tennessee, three historic SEC powers.
Saban, pleading for competitive equity, now is a proponent of the eight-game schedule.
"I think there are pros and cons when you look at the eight vs. nine models," Alabama athletic director Greg Byrne said Monday. "It's important for all of us to create value for our institutions and the Southeastern Conference. I'm sure there will be a continued healthy debate."
The framework of a football schedule is a competitive and financial issue for the member schools and an emotional minefield for their fan bases. Historic rivalries are at stake.
Some may be revivified, like Texas–Texas A&M. Others, like Georgia-Tennessee, will be tossed aside. But for more than three decades, administrators across the country have been quick to toss rivalries over the side of the ship in order to load on more money.
Oklahoma comes to the SEC with its biggest rival and leaves behind Bedlam. The Sooners may develop a rivalry with Arkansas, or redevelop one with Missouri. But it will take a decade or four. Ask Nebraska how its Big Ten rivalries are going.
Oklahoma and Texas will send their presidents, athletic directors, and senior women's administrators to the SEC spring meetings for the first time, 13 months before they move over from the Big 12. Sooner athletic director Joe Castiglione described their presence in Destin next week as somewhere between "What are you doing here?" and casting a vote.
"They will certainly know how we feel," said Castiglione, who said Oklahoma favors the nine-game schedule.
He laughed and added, "There may be a Robert's Rules of Order that I have to check. We're only voting in one conference at the moment."
SEC schedule concern no big deal compared to ACC's issues
Commissioner Greg Sankey hopes to leave Destin with a decision on the schedule. But the search for consensus could easily produce another twist or turn. The league typically announces its football schedule around the start of the football season. Summer beckons the procrastinators. The SEC may leave Destin having done nothing more than kick its schedule issue down the beach.
All of which is to reiterate that as existential crises go, the SEC schedule is weak tea. Existential crises are tormenting what's left of the Pac-12, not to mention the ACC, a league in torment because its TV contract with ESPN doesn't expire until 2036.
For perspective, North Carolina quarterback Drake Maye will turn 34 years old in 2036. His coach, Mack Brown, will turn 85.
The ACC's public/private debate over testing the grant of rights clause that binds members to the league injured a lot of feelings in a league that historically prided itself on its One-For-All-All-For-Oneness. This is the league where the late commissioner Gene Corrigan once forced feuding basketball coaches Dean Smith of North Carolina and Rick Barnes of Clemson to settle their differences over a cocktail in Corrigan's home.
That happened in 1995, before the league expanded from Boston to Miami and the geographical bonds began to loosen.
These days, the "we" section of the ACC has been overtaken by the "me" section. If the ACC votes to dole out its broadcast revenue based on results it will be an invitation to disgruntlement, judging by what happened in the Big 12. It would be fair to point out that a bigger piece of the pie didn't prevent Texas from leaving for a bigger pie.