Najee Harris recaps rookie debut for Pittsburgh Steelers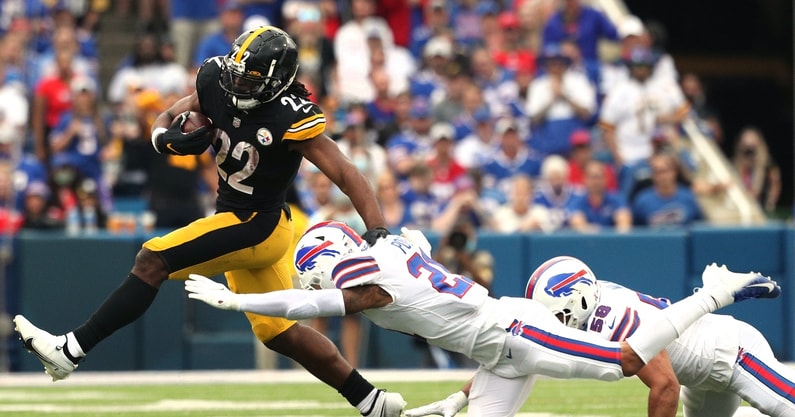 Pittsburgh Steelers running back Najee Harris described his rookie debut as a "good learning experience" as the Steelers defeated the Buffalo Bills 23-16.
"I think we knew as a team we're just trying to get our identity so we knew we were going to start off kind of slow," Harris said. "It was not what we were hoping for but that's just part of building, but the same token, the Buffalo Bills is a really good team. It's a great learning experience really because it was a lot of rookies playing. It was a good learning experience for us to play against a really good team and finish the way we did."
Harris said he has a lot to work on after the season opener.
"There's only some stuff you can learn as a rookie in the game and that's what happened today," Harris said. "There was certain pressures that we talked about in meetings but when it's out on the field, they did a completely different thing, so adjusting to that in the game. Learning to take what you can. The speed of the game. Lot of personal things that a rookie running back only can learn in the game."
Najee Harris rushed for 45 yards on 16 carries and had one reception for four yards. Harris added that though they were calm during the game, the offense is still getting comfortable with one another.
"This is a new offense," Harris said. "A lot of new pieces, lot of rookies, new OC (offensive coordinator), and Ben's (Roethlisberger) getting to know his personnel too, that plays a big factor."
Roethlisberger threw for 188 yards and one touchdown, to eight different receivers, led by JuJu Smith-Schuster, who had four receptions for 52 yards.
Najee Harris was drafted by Pittsburgh in the first-round of the 2021 NFL Draft out of Alabama to help jumpstart a rushing attack that finished last in the league in total rushing yards in 2020.
Najee Harris had a record-breaking career at Alabama, finishing with 3,843 career rushing yards in four seasons to rank atop the Alabama all-time list. Harris is the Crimson Tide's all-time leader for total touchdowns in a career with 57. He also finished with 4,624 all-purpose yards for his career, good for second all-time in Alabama's storied history.
As a senior, Harris rushed for 1466 yards and 26 touchdowns, to go with 425 receiving yards and four touchdowns, helping the Tide to an undefeated national championship season in 2020.
Najee Harris and the Steelers offense will look to build on their season-opening win in their home opener on Sunday against the Las Vegas Raiders.