Former Alabama lineman Evan Neal ruled out after being carted to locker room with leg injury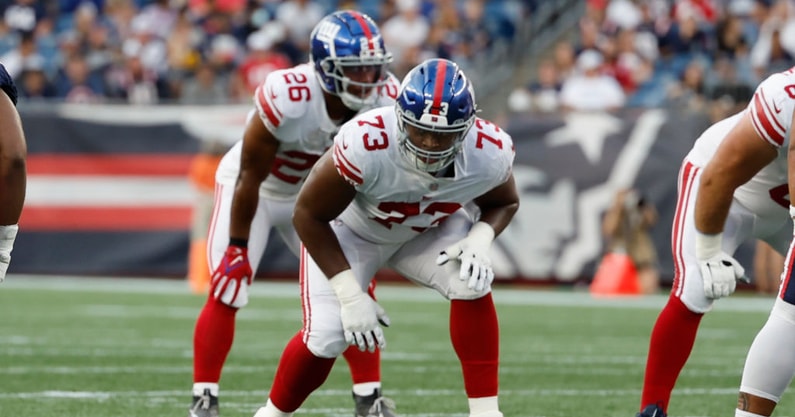 New York Giants offensive lineman Evan Neal has been carted into the locker room after suffering a scary leg injury Sunday against the Jacksonville Jaguars. He has since been ruled out, according to Adam Schefter.
Running back Saquon Barkley took a rush behind Neal's block in the first half, but was tackled into Neal's knee by the Jacksonville defender. Neal immediately went down, but was able to limp off the field after being helped by Giants training staff.
CLICK HERE to subscribe for FREE to the On3 YouTube channel
Taken seventh overall in the 2022 NFL Draft by the Giants out of Alabama, Neal had already been contributing heavily to New York's offensive efforts as a starting tackle. The extent of his injury has not been disclosed.
Nick Saban reveals pregame and postgame messages vs. Mississippi State he shared with his players
Nick Saban knew Alabama needed a rebound victory, and the Crimson Tide bounced back in a big way against Mississippi State.
The Crimson Tide tried to erase the memory of last week's loss to Tennessee with a 30-6 drubbing of the Bulldogs on Saturday. Afterwards, Saban revealed his pre-game and postgame message he shared with his players that helped lead to the victory.
"The game tonight, I challenged them in terms of how they were going to respond," began Saban. "You respond with your ability, positive energy, how you block, how you tackle, the enthusiasm that you play with. I was pleased with the way the guys went out and competed, had fun. Wasn't a lot of anxiety. Wasn't always perfect execution, but to me that's a start. It's kind of time to answer the bell, and now the challenge is we need to build on that. We've got a bye week coming up, we've got a lot of guys that we need to get healthy. I think we'll get some guys back. But I think the number one thing is we want to build on sort of the chemistry of how we competed in the game today. 
"I thought the defense played well. We should be able to take the air out of the ball on offense. Couldn't run the ball very well tonight, that's something ee definitely need to improve on. So hopefully Bryce getting a week off here now will really help him maybe get back healthy. Guys had a good week of preparation. They went out and played a good game, and I'm really pleased and proud of them."
As Nick Saban mentioned, now Alabama can take some positivity into their bye week with LSU and Ole Miss on the horizon afterwards. If the Crimson Tide can get through those challenges, an SEC Championship appearance is more than likely in their future.