Former Alabama tight end OJ Howard making surprise NFL free agent visit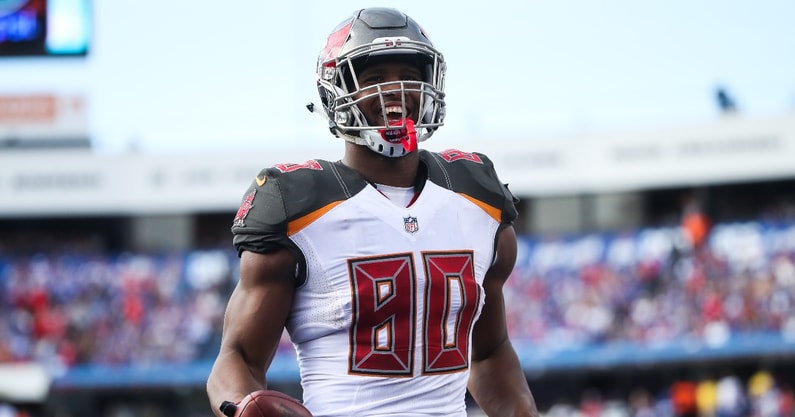 Former Buffalo Bills tight end O.J. Howard was in Houston today visiting the Texans, sources told NFL Network's Ian Rapoport. He was at one point poised to join the Cincinnati Bengals before they added another tight end. But following a physical on Wednesday, he officially decided to sign with the Texans, according to Aaron Wilson of Pro Football Network. Howard spent some time with the Buffalo Bills this offseason, but the team released him on Aug. 30. He should make for an interesting option alongside Miami Hurricane Brevin Jordan and Pharaoh Brown.
The former Crimson Tide standout has shown flashes of jaw-dropping upside over the years, but he's also struggled with drops at times during his NFL career. If he can figure out how to put it all together, the sky is the limit. Time will tell if he can once again return to his promising form with the Texans.
When he was with the Tampa Bay Bucs, Howard hauled in over 400 receiving yards in three different seasons. One of his best highlights there was without a doubt, the catch he had in 2018 against the Philadelphia Eagles. The former Alabama star caught the ball from Ryan Fitzpatrick, cut across the field, then burned Eagles defenders down the left sideline for a spectacular 75-yard touchdown. Plays like that demonstrate the incredibly high ceiling that so many people know he has inside of him. In his five-year NFL career thus far, Howard has hauled in 1,737 receiving yards and 15 touchdowns.
CLICK HERE to subscribe for FREE to the On3 YouTube channel
He's also struggled mightily with drops at times and his catch percentage dropped all the way to 57.9 percent in 2020. He ruptured his Achilles in 2020 and unfortunately had to miss most of that season. The 6-foot-6, 251 pounder was lucky enough to win a Super Bowl that year, even though he was injured.
O.J. Howard was one of the all-time greats at Alabama
While suiting up for the Alabama Crimson Tide, Howard proved himself to be one of the best tight ends in program history, combining his jaw-dropping athleticism with exceptional hands. Without a doubt, the best game in his college football career came against the Clemson Tigers in the 2015 College Football National Championship Game. He hauled in five catches for a career-high 208 receiving yards and two touchdowns against the Tigers. The Crimson Tide won that game 45-40 in a classic and Howard earned MVP honors. In his final two seasons with Alabama, Howard hauled in 1,197 receiving yards and five touchdowns.
At the 2017 NFL Scouting Combine, Howard showcased his blazing speed, running a 4.51 40-yard dash. Many analysts across the country had him billed as the top tight end prospect in the 2017 NFL Draft. The Tampa Bay Buccaneers drafted him as the No. 19 overall selection in the first round.
Coming out of Autauga Academy (Prattville, Alabama), Howard was once again thought of as the nation's best at his position. He was ranked as the No. 1 tight end in America and a five-star prospect, according to the On3 Consensus Rankings for the 2013 cycle.