Former Auburn star Smoke Monday announces he suffered a torn ACL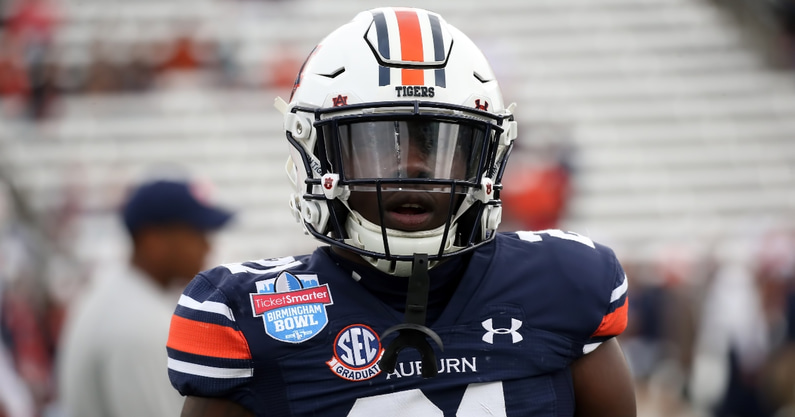 Former Auburn safety Smoke Monday announced the news that he suffered a torn ACL this week in practice for the New Orleans Saints. He made the announcement via his Instagram page on Friday evening. Monday suffered the knee injury in Tuesday's practice in Saints' training camp. There were initial fears that his injury would be serious and unfortunately on Friday evening, those fears were confirmed. The former Tigers' star posted an announcement to set the record straight about his injury.
"First of all, let me just say that I'd want to thank the Saints organization for providing the chance of a lifetime to come and showcase my godly ability," Monday began. "I just want to set the record straight for anyone who might have any concerns about my knee. I have suffered a torn ACL and will miss the season, but I want everyone to know I'm doing great and in good spirits, and will be having surgery very soon. I'm planning to use this time to get healthier and continue to learn the system inside out. Just wanted to say thanks to everyone who has called to check up on me about my injury. Trust that I'll be 10 times stronger when I return. God only gives his toughest battles to his strongest soldiers and I am unquestionably one of them."
Monday went undrafted in the 2022 NFL Draft but quickly signed with the Saints shortly after. And it did not take long for the former Tiger to get acclimated to his new team and win over a few of the veterans. Before he went down with the ACL injury, Monday looked the part of a top-tier draft selection and was viewed by many as a lock to make the Saints practice team, at the very least.
Despite going undrafted, Monday –who was a standout safety at Auburn — signed an undrafted free agent deal with the New Orleans Saints. According to Aaron Wilson of Pro Football Network, Monday's deal with the Saints includes $120,000 guaranteed – with $100,000 of that being the safety's base salary and $20,000 coming from his signing bonus.
A 6-foot-3, 199-pound safety, Monday put together a strong 2021 campaign for Auburn. While recording 63 total tackles, he also tallied nine tackles, two sacks, and an interception. Those numbers caught the attention of the New Orleans Saints and they decided to sign him to a UDFA deal.
On3's Justin Rudolph also contributed to this article.