Former Cowboys wide receiver James Washington signs with New York Giants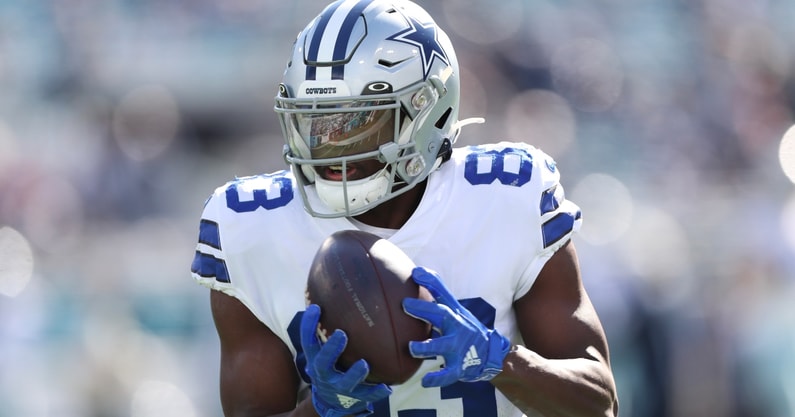 One week after losing his spot with the Dallas Cowboys, wide receiver James Washington has reported signed with a divisional rival. Washington worked out with the New York Giants on Tuesday and on Wednesday, Giants reporter Art Stapleton shared that the 6-foot-0, 205-pound wideout is signing on to the practice squad.
The Giants face the Minnesota Vikings on the road on Sunday at 4:15 p.m. for the first round of the playoffs.
Dallas had expressed interest in re-signing Washington to the practice squad after his release but it appears they'll have to play against him instead.
The Cowboys had high hopes for Washington after sending Amari Cooper to the Browns in March. After the 2021 season, he signed a one-year deal with Dallas worth $1,187,500. He injured his left foot in the spring and fractured his right foot in training camp.
The former Pittsburgh Steelers receiver played in just two games this season for Dallas, recording one target. In four seasons with the Steelers, the second-round draft pick totaled 114 receptions for 1,629 yards and 11 touchdowns.
Washington was a standout at Oklahoma State and went No. 60 overall to Pittsburgh in the second round of the 2018 NFL Draft.
Cowboys working to get T.Y. Hilton more involved
Wide receiver T.Y. Hilton is proving to be a savvy pickup by the Dallas Cowboys. Discussing Hilton's impact off of the stat sheet last week, Dallas head coach Mike McCarthy noted that the veteran is already playing, and will continue to play, a big role in helping younger players as they move into the playoffs.
"Definitely, that's a big part of his reputation coming in here," McCarthy said of the former Colt ingratiating himself with younger players on the team. "I think just like anything, you talk about talent, production, to win games and to be part of what we're about to get into in playoff victories, it's definitely the connection of guys that have been there. There's going to be… our rookie class, this is a new experience for them.
"All those things are awesome. You love to see veterans paying it forward."
The former Indianapolis receiver has more playoff experience than most on the Dallas roster. From 2012 to 2020, he played in nine playoff games. Over those nine games, he accumulated 47 catches for 781 yards and three touchdowns.
After two games with 50+ receiving yards, the Commanders held Hilton to two catches on four targets for 19 yards in Week 18. His two catches were among just 14 completions by quarterback Dak Prescott on Sunday.