Former NFL GM explains why he'd draft Bryce Young over CJ Stroud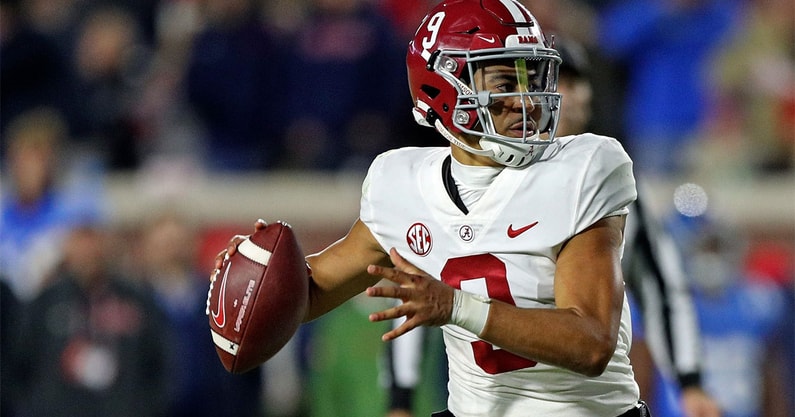 ESPN2 featured an NFL mock draft special around the projections of former NFL general manager Mike Tannenbaum, and the former executive has Bryce Young over CJ Stroud in his first-round mock draft.
The placement of those two quarterbacks has been the subject of much discussion on ESPN, but Tannenbaum had positive things to say about both quarterbacks.
Still, he's got Stroud behind Young.
"I wouldn't say there's a huge gap, but there is a gap between him and Bryce Young, in my opinion," Tannenbaum said. "Look, he had a great couple of years at Ohio State, 85 touchdown passes. He's a smooth thrower of the ball."
There were two primary factors that stuck out to the former NFL general manager, and he discussed both when outlining why he favored Young over Stroud in the top spot in the 2023 NFL Draft.
Really it's one physical trait that puts Young over the top, even as much as Stroud was impressive in some areas.
"Maybe what I was most impressed with was two things," Tannenbaum said of Stroud. "One, how he played against Georgia in the Peach Bowl, that's a great defense, he played well. But I thought he threw the ball great at the Combine with only one receiver he was familiar with in Jaxon Smith-Njigba."
And the kicker, on why he has Young being selected No. 1 overall instead of Stroud.
"He does everything well, I just don't think he's as mobile and as quick-twitched as Bryce Young is and that's what separates the two," Tannenbaum said.
Louis Riddick makes a case for CJ Stroud
While Tannenbaum went with Bryce Young over CJ Stroud, ESPN NFL Draft analyst Louis Riddick sees it the other way around. And Riddick has been vocal about his mock draft selection on ESPN.
"I think quarterback play comes down to a number of different things," Riddick said on ESPN during the Paul Finebaum Show last week. "Let's just talk about on the field first. It comes down to decision-making and accuracy and CJ Stroud, there's been no one really better at doing that since his time being on the field at Ohio State.
"When you're talking about his availability, his durability, his frame, and whether or not he can withstand a 17-game season not for one, two or three years, but for 10 or 15 years, I don't think there's any question that he will be able to handle the rigors of the NFL and playing the quarterback position."
At the end of the day, Riddick likes Stroud's ability to operate at a high level from inside or outside of the pocket.
"As far as being able to play in the pocket, out of the pocket, being able to handle the crucial situations that come up in the NFL, as a quarterbacks coach just told me today, 'Look, I'll boil it down to this, it's a third-down and two-minute league,'" Riddick said. "That's where he lives, that's where he's most comfortable. Those are the kinds of things that he can do."