Former NFL head coach discredits Jon Gruden accusation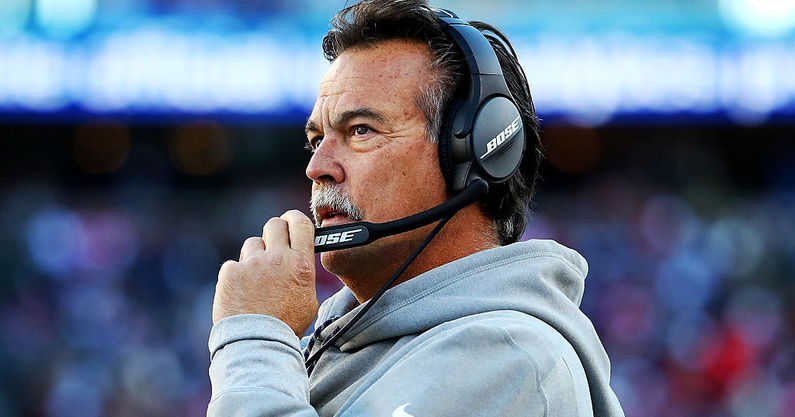 A former NFL head coach was named by Jon Gruden in his controversial emails and released a statement Tuesday regarding the accusations made. Jeff Fisher was the coach of the Los Angeles Rams when they drafted Michael Sam in 2014, the first publicly gay player drafted in the NFL.
Jon Gruden's NFL accusation
In Gruden's emails revealed by the New York Times, it was detailed that he used homophobic language and slurs to describe NFL commissioner Roger Goodell, as well as saying Goodell pressured former Los Angeles Rams coach Jeff Fisher to draft "queers." The New York Times reported that Goodell's comments about Fisher refer to the drafting of Michael Sam, an openly gay player drafted in 2014.
Fisher himself released a statement Tuesday discrediting the accusation that the NFL pressured the Rams to draft Sam, and expressed his continued support for him.
"Michael Sam was the SEC Co-Defensive Player of the Year in 2013, and we selected him in the 2014 NFL Draft based on his defensive production and pass rushing skill set on the field.
"As a head coach for over 20 years, we drafted or didn't draft, players based on a variety of qualities. Their sexual orientation would never — and should never — play a part in the decision-making process.
"I continue to support Michael, and his decision to come out as the first draft eligible openly gay player in the league. It took courage to serve as a role model for those competitive football players who may also happen to be gay.
"Lastly, the NFL never encouraged or discouraged me regarding the selection of a potential prospect."
Gruden's additional emails revealed
"A trove of emails reviewed by The New York Times show Raiders Coach Jon Gruden went beyond previously disclosed racist comments to issue broad tirades against gays people, women and concussion safety in the NFL," detailed the New York Times on their report about Gruden's email scandal.
The emails under review were sent by Gruden to Bruce Allen, the former president of the Washington Football Team, and others while he was working as a color analyst on Monday Night Football.
"In numerous emails during a seven-year period ending in early 2018, Gruden criticized Goodell and the league for trying to reduce concussions and said that Eric Reid, a player who had demonstrated during the playing of the national anthem, should be fired," the New York Times' report continues. "In several instances, Gruden used a homophobic slur to refer to Goodell and offensive language to describe some N.F.L. owners, coaches and journalists who cover the league."