Former Oregon commit Mookie Cook eyeing blue bloods, pro route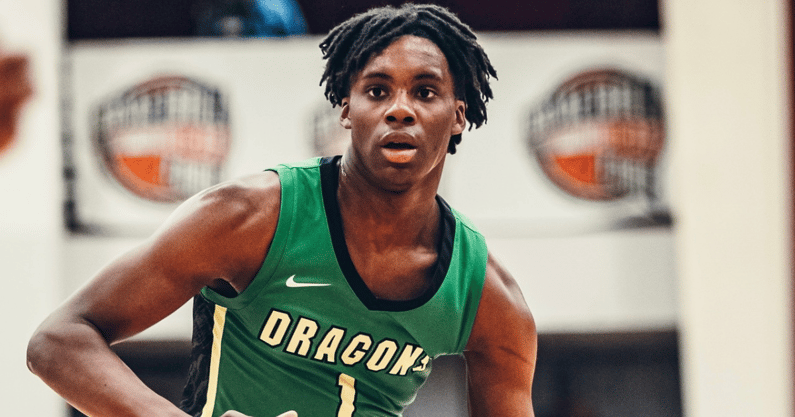 Class of 2023 five-star wing Mookie Cook decommitted from the Oregon Ducks one week ago today.
Statement from Cook to On3:
"I would first like to say thank you to Coach Altman and the entire basketball coaching staff at the University of Oregon for believing in me. I am grateful for their support as well as the fans. However, after much consideration and talks with my family, I have decided to reopen my recruitment. During this time I will weigh other options in addition to The University of Oregon. I look forward to the continued support as I embark on this journey."
Cook, a Portland, Oregon native, committed to the Ducks on the final day of March earlier this year, becoming the program's second-highest recruit in the modern recruiting era. Only Bol Bol ranked higher coming out of high school.
In the first go-around, Cook picked the Ducks over Kentucky and Gonzaga, but also considered schools such as Kansas, UCLA, Texas Tech, Michigan, Memphis, Arizona, and more.
Cook looking at Blue-Blood programs, pro route
An abundance of schools reached out to the 6-foot-7 prospect out of AZ Compass Prep following his decommitment, but a source close to Cook told On3 he's considering the following six programs — Kentucky, Duke*, Arizona, Gonzaga, the G-League Ignite, and will continue to consider Oregon. His recruitment remains open for the time being.
*Duke has not offered Cook, but the Blue Devils coaching staff is expected to watch Cook this weekend in Kansas City at EYBL Session 3.
Cook is ranked as the No. 13 overall prospect in the On3 Consensus, a complete and equally weighted industry-generated average that utilizes all four major recruiting media companies.
To read a previous On3 Exclusive with Mookie Cook, click here.
Cook to play young LeBron James in upcoming "Shooting Stars" movie
Cook recently landed an acting role, starring as LeBron James in the NBA star's new movie, Shooting Stars. For more on that, read here.
Scouting Summary
"Cook has all the tools. At 6-foot-8 he has the positional size. The broad shoulders and long arms showcase a projectable frame. Cook is a functional athlete and he has a smooth release on his jump shot with range. The question mark with Cook is his consistency. He seems to get lost in the shuffle a good amount, not imposing his will on the flow of the game. Cook has a tendency to settle for jump shots. He has the dimensions and physical traits to be a good team defender. This upcoming summer will be a big one in the development of Cook figuring out who and what he is as a prospect and player. The tools are there, the upside is still immense." – Jamie Shaw, On3 National Recruiting Analyst