Former Oregon star Kayvon Thibodeaux's NFL jersey number revealed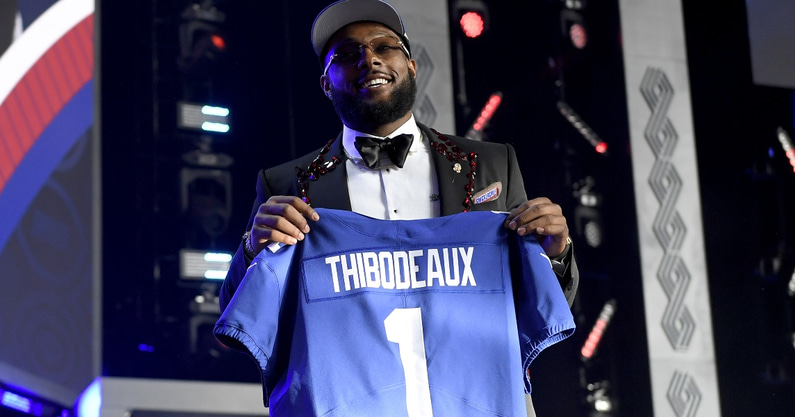 Kayvon Thibodeaux isn't giving up the No. 5 just yet.
The New York Giants announced Thibodeaux will wear the number he wore for three years at Oregon. It's appropriate, too, considering he was the No. 5 overall pick in the 2022 NFL Draft.
Thibodeaux, who was an early pick to be the No. 1 selection before the 2021 season, could make an instant impact on his new team. Last year as a junior with the Ducks, he had 49 tackles, 12.0 tackles for loss and 7.0 sacks in 10 games. It was quite a way to cap off his career with Oregon, which ended with 35.5 tackles for loss and 19.0 sacks during his three seasons in Eugene.
The Giants drafted him with their first pick and turned around to grab former Alabama offensive lineman Evan Neal as the No. 7 overall pick, filling two huge needs with talented players as Joe Schein and Brian Daboll take over the team as general manager and head coach, respectively.
New York is coming off a rough go in 2021, finishing 4-13 overall last season. The Giants had the No. 5 overall pick and acquired the No. 7 overall pick from the Chicago Bears, who traded up with New York in 2021 to draft Justin Fields.
Kayvon Thibodeaux reflects on hearing name called in NFL Draft
The New York Giants got a haul in the first round of the 2022 NFL Draft, including Oregon defensive end Kayvon Thibodeaux with the No. 5 overall pick. Hearing your name called by the commissioner is a big moment for anyone, and it was no different for the latest New York star.
During his introductory press conference alongside fellow top 10 pick Evan Neal, Kayvon Thibodeaux reflected on hearing his name called by Roger Goodell during the NFL Draft.
"It's just a blessing," said Thibodeaux. "Your family puts in so much to get you here, seeing your mom, your family and all the sacrifices that they made. And now to be able to rejoice with them and really celebrate this moment."
His focus on family and those who helped get him to this point in life continued throughout the duration of the press conference. As one of the most outspoken players in this year's draft class he has developed large contingencies for and against him, but he has set the tone early for his approach.