Former SMU star Eric Dickerson reveals why he did not land at Oklahoma, Texas A&M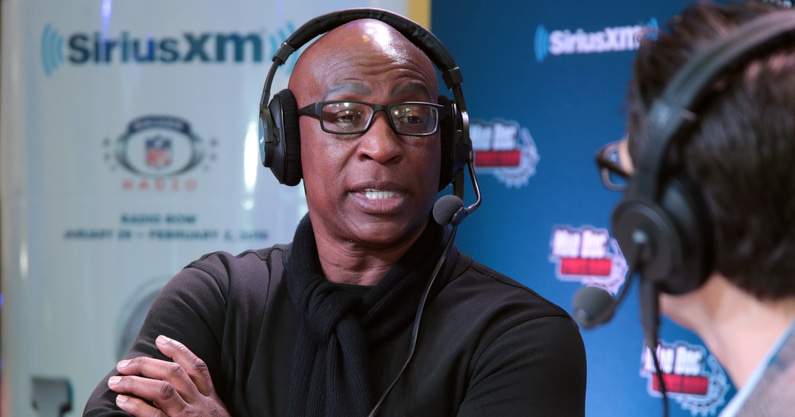 One of the most heated recruitments in the history of the Southwest Conference was for running back Eric Dickerson. Coming out of Sealy, TX, the future NFL Hall of Famer was being pursued by nearly every college in the nation but mainly Oklahoma, SMU, Texas A&M, and USC.
Dickerson ended up at SMU, rushing for 4,450 yards and 47 touchdowns throughout his four seasons in the Park Cities. He was long known as one of the top prospects to get away from the other three schools, mainly the Aggies and Sooners.
On the Bomani Jones Podcast recently, Dickerson explained why he did not end up in either College Station or Norman. He began with Oklahoma, where he said there was a trust issue between his mother and the head coach.
"I wanted to go to OU, that was my dream school, but my mama didn't trust Barry Switzer," Dickerson said. "She thought he was a liar."
Switzer was running a wishbone offense at the time for Oklahoma and a player like Dickerson would have fit right in. A member of the Big 8 conference at the time, the Sooners won their conference for two of the four years Dickerson would have been in Norman.
As for Texas A&M, Dickerson was once committed to play under head coach Tom Wilson. However, he was not the problem in the recruitment and why Dickerson ended up flipping to SMU. The running back said he wasn't a fan of some of the traditions.
"Texas A&M recruited me the hardest, but I didn't like the color of their uniforms, and I didn't like those male cheerleaders," Dickerson said.
The Aggies have sported the maroon throughout its history and have had their yell leaders since 1907. They were trying to establish themselves as a real power in the Southwest Conference at the time and landing Dickerson would have certainly helped.
SMU ended up being the choice for Dickerson after building a relationship with head coach Ron Meyer. The Mustangs reached new heights with him and Craig James in the backfield and even had a shot at the 1982 national championship.
Although a tie against Arkansas in the regular season ended their chances, they took down No. 6 Pittsburgh in the Cotton Bowl and finished the year ranked No. 2 in the AP poll. Dickerson finished third in the Heisman Trophy voting that season, just behind Georgia's Herschel Walker and Stanford's John Elway.