Former Texas A&M guard Marcus Williams finds new home in transfer portal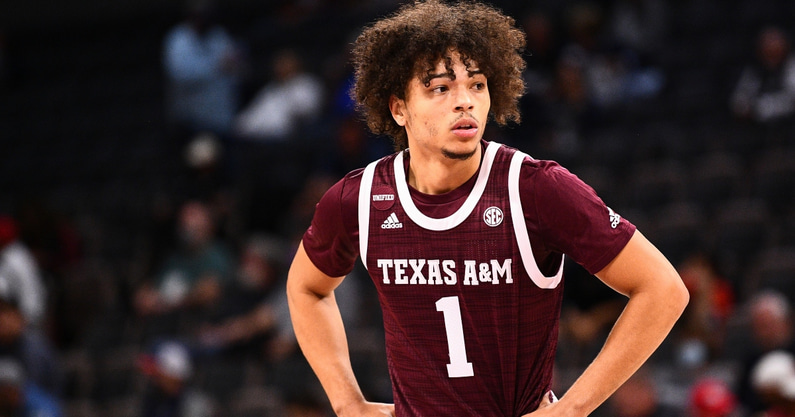 Guard Marcus Williams began his college basketball career at Wyoming, but he transferred to Texas A&M after one season. Then, after one year with the Aggies, Williams decided to enter the transfer portal for a second time, and he has now found a new home.
According to Stadium's Jeff Goodman, Williams is now heading to San Francisco.
"San Francisco has landed Texas A&M transfer Marcus Williams, per source," Goodman tweeted. "Former MWC freshman of year at Wyoming."
At Wyoming, Williams flashed big-time potential for the Cowboys. He played in 25 games with 24 starts as a freshman, averaging 31.1 minutes, 14.8 points, 4.3 assists, 2.5 rebounds and 1.4 steals per gamae.
This past season at Texas A&M, Williams appeared in 27 contests with 25 starts. He averaged 24.5 minutes per game, posting a line of 7.9 points, 3.4 assists, 2.2 rebounds, and 1.3 steals. Williams shot 45.2% from the field and 33% from three-point range at Wyoming. At Texas A&M, he shot 36.2% from the field and 28.3% from three.
Williams took a "leave of absence" from the Texas A&M program earlier in the season. The Aggies finished the year 27-13 overall and 9-9 against SEC opponents, but narrowly missing out on the NCAA Tournament. Texas A&M did make a run to the NIT title game, though, falling in the championship.
Even though Williams is a Dickinson, Texas native, he opted to hit the transfer portal after one year with the Aggies. Now, he is looking for another fresh start with a rising program at San Francisco.
San Francisco made it to the NCAA Tournament as a No. 10 seed after going 24-10 overall in the regular season. The Dons were led by previous head coach Todd Golden, who is now at Florida. Chris Gerlufsen is San Francisco's new head coach following the departure of Golden.