Former TV executive slams Pac-12 commish George Kliavkoff for comments on Deion Sanders, Colorado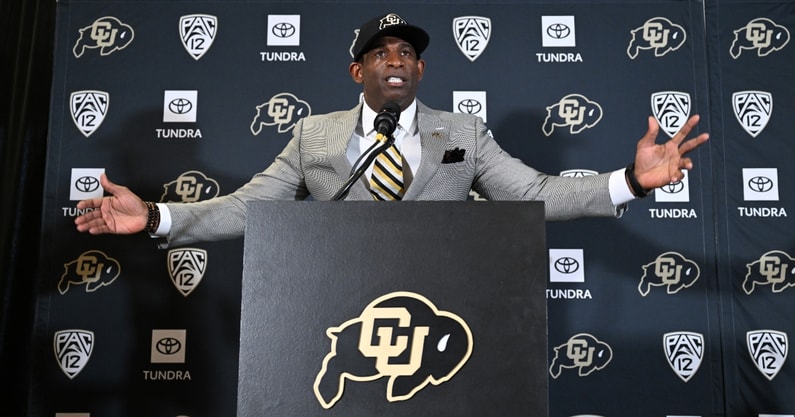 Deion Sanders is a massive name and personality in college football. He's a Hall of Fame player and turned HBCU Jackson State into one of the best FCS programs before making the jump to Colorado. There, he will try and turn around a struggling program.
PAC-12 commissioner George Kliavkoff is thrilled to have Deion Sanders in the conference. He even thinks that Sanders is going to help the conference as it negotiates its new media deal.
Nicole Auerbach of The Athletic reported that George Kliavkoff thinks that Deion Sanders adds value to the conference as a whole. This added value will, in his opinion, help the conference negotiate a higher value in its new media deal.
*Follow all Colorado Buffaloes news on Facebook here*
Not everyone agrees with Kliavkoff's thinking, though. In particular, Bob Thompson, who is a retired President of Fox Sports Networks and Fox Sports International, as well as being the Big Ten Network co-founder, took to Twitter to dispute that.
"Can't ever recall a new coach for a 1-11 team changing my mind on the value of a media deal for an entire conference," Thompson tweeted.
The main problem with adding value to a conference based on a coach is obvious. What if that coach leaves? That's before you consider other issues, like how hard it is to quantify the value that Deion Sanders actually brings.
The PAC-12 started to negotiate its media deal early in an attempt to stabilize the conference. This would, hypothetically, make teams want to stay and inspire others to join following the departure of USC and UCLA.
Importantly, the new PAC-12 media deal won't be signed until January. The slowdown has to do with UCLA. The UC Regents may decide to prevent the Bruins' move to the Big Ten, which would change the value of the media deal.