Former UCF QB McKenzie Milton slams Auburn, defends 2017 AAC foes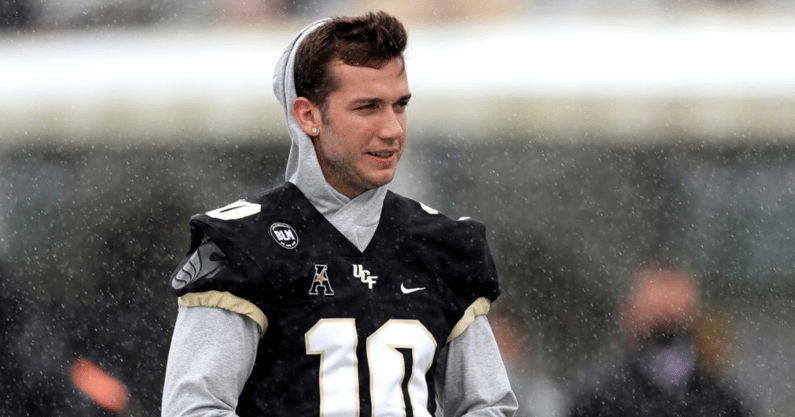 Current Florida State quarterback McKenzie Milton, who played at UCF from 2016-2018, is coming to the American Conference's defense. After starting a conference-wide controversy with his previous take, the potential Comeback Player of the Year is taking on the SEC.
To put everything in context, it is important to break down the first controversy. After an American Conference fan page posed the question – 2021 Cincinnati or 2017 UCF – Milton defended his former team.
Not only did Milton take 2017 UCF, but he also added that 2017 South Florida and 2017 Memphis both have a case too. Those teams finished No. 6, No. 21 and No. 25, respectively, in the final AP Poll.
The hot take created battle lines across the conference, bringing UCF, South Florida and Memphis fans up against the Cincinnati faithful. Attempting to defuse the tension, Milton jumped back on Twitter to clarify.
"This isn't taking shots at Cinci," Milton posted. "It's trying to point out the disrespect that the American Conference faced back then. Memphis and USF that year were tougher opponents than Auburn and you can ask any player/coach from that UCF team and they'll stan that."
While his clarifying comments brought some unity to the American, Milton set off a new controversy in the SEC.
Evaluating McKenzie Milton's claims
Clearly, McKenzie Milton is high on the 2017 American Conference field. There is no doubt the conference peaked that season with three teams inside the top 25 and a banner bowl win from UCF, but the question remains whether those teams could beat the 2021 Cincinnati squad aiming to reach the College Football Playoff.
The Cincinnati Bearcats rank No. 3 in the country after Week Six, claiming the highest seed by an AAC team in conference history. They are now 5-0 with wins over Notre Dame and Indiana. They still have a minefield of conference games before matching UCF's 13-0 record.
As for Milton's Auburn claim, the facts are easier to check. After beating Memphis 40-13 at home, things tightened up for the Knights. In the final week of the regular season, UCF defeated South Florida 49-42 despite finishing -120 yards in the total-yard margin. Milton then led the Knights to a 62-55 double-overtime win over Memphis. In that game, UCF was outgained by 27 yards and had four turnovers.
With a chance at history, UCF knocked off Auburn 34-27 in the Chick-Fil-A Peach Bowl, finishing -10 in total-yard margin. By the numbers, all three opponents seem to matchup up evenly with UCF, but Milton remains adamant the AAC duo was better.