Former USC star Drake London injured in Falcons preseason game vs. Detroit Lions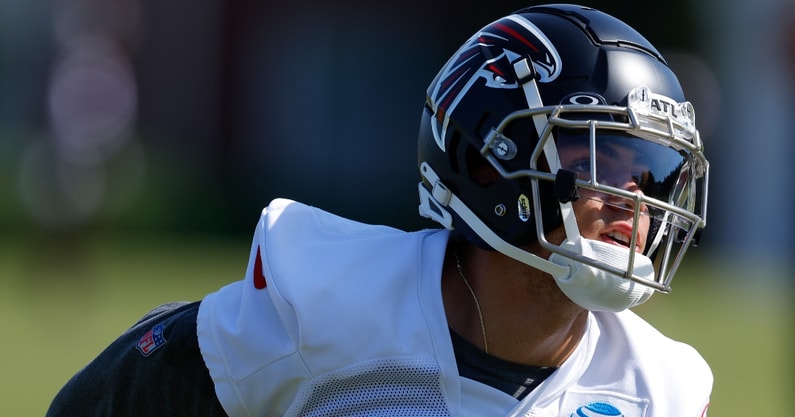 Former USC star Drake London made a couple of nice catches in his NFL debut in the Falcons preseason game on Friday night vs. the Detroit Lions. Unfortunately for Atlanta fans, they won't get to see their first-round draft pick play anymore the rest of the evening. The franchise announced that he suffered a knee injury and will not return to the game, per ESPN's Adam Schefter.
Falcons' fans are hoping the injury is minor and holding him out of the preseason game is just precautionary. The star wide receiver is expected to be a focal point in Atlanta's offense this season.
Following the game, Atlanta head coach Arthur Smith said the team would know more about the knee injury that London suffered. One source was encouraged on Friday night and said, "it is not a serious injury," ESPN's Adam Schefter tweeted after the game. Schefter also reported that London will have further testing on the knee to be certain about the diagnosis.
Here is the play he was injured on, a 24-yard catch against Amani Oruwariye.
Last season, London suffered a fractured right ankle injury against the Arizona Wildcats on Oct. 30, 2021. The injury ended his season prematurely, but it didn't affect his draft stock much at all. He was selected by Atlanta with the No. 8 overall pick in the 2022 NFL Draft.
Drake London's contract with the Atlanta Falcons
London signed a $21.53 million contract with the Falcons, which came with a $5.4 million signing bonus. His yearly salaries will be $705,000, $870,000, $985,000 and $1.1 million in 2023, 2024 and 2025 respectively. On the third day of training camp, his roster bonuses will go into effect totaling $813,840, $1.677 million, $2.541 million, according to Pro Football Network's Aaron Wilson.
Thanks to the deal, London became the highest-paid rookie wide receiver that has singed his deal, trumping New York Jets wideout Garrett Wilson, who was selected No. 10 overall and signed a $20.5 million rookie deal himself.
Before London suffered his season-ending ankle injury, London saw production in eight action-packed performances for the Trojans. In total, he snagged 88 passes for 1,084 yards and seven touchdowns. The 88 receptions tied Michael Crabtree for the most by a Power 5 receiver in his team's first eight games season, solidifying himself as one of the top receivers in this year's draft class.
He would go on to finish his collegiate career an impressive 2,153 yards and 15 touchdowns on 160 receptions in just 27 career games.
Now that longtime franchise quarterback Matt Ryan is with the Indianapolis Colts, it seems Marcus Mariota will take over the starting job, for at least the beginning of the season. He'll have the duo of London and tight end Kyle Pitts at his disposal early and often.
The two are a very intriguing pair of big receivers and the Falcons should be able to find plenty of ways to get them both involved in the offense. Pitts led the team in receptions and receiving yards last season, with 68 catches for 1,026 yards and looks to keep that same production going in 2022.
Despite his newly minted rookie status, he'll be called upon from the first game of his rookie year thanks to the year-long suspension of Falcons' top pass catcher in Calvin Ridley.
"Would I consider myself a leader? Yes. But at the same time, I am a rookie," said London during his introductory press conference. "I have to go through all the ropes. Probably going to be carrying shoulder pads and helmets all the time, and you know rookie dinner and things like that. But I would definitely say in the future, I would like to be a leader."
On3's Barkley Truax also contributed to the article.