Top-100 2022 defensive lineman Nyjalik Kelly visiting Georgia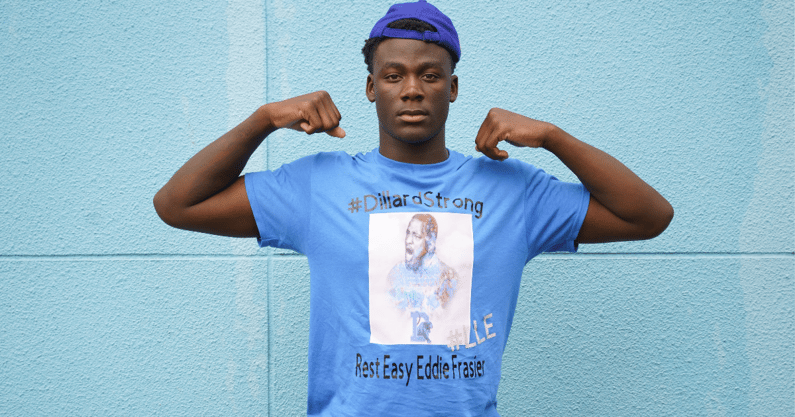 Fort Lauderdale (Fla.) Dillard 2022 defensive lineman Nyjalik Kelly will visit Georgia this weekend, he tweeted Wednesday morning.
Kelly, the No. 98 overall player in the 2022 On300 rankings, will be part of another massive visitors' weekend for the Bulldogs when they host undefeated and No. 11 Kentucky.
A week after visiting Florida for the in-state Gators' game against Vanderbilt, Kelly will make his way up to Athens. He picked up an offer from Georgia in May, but has yet to actually visit the campus. Kelly took official visits to Indiana, LSU and Oregon over the summer, as well as one to Florida State earlier this fall.
He was committed to the Seminoles from August 2020 to April 2021, but ultimately backed off of that pledge and reopened his recruitment. Florida State has remained in the thick of things. But it looks like Georgia or Florida will get the last chance to impress him with an official visit.
Nyjalik Kelly part of big recruiting weekend
With another top-15 matchup on the slate, this weekend looks to be a big one for Kirby Smart and Co., both on the field and off of it. The co-headliner with Kelly, at least for now, is East St. Louis (Ill.) wide receiver Luther Burden. The Bulldogs are in his top three along with Alabama and Missouri. Burden, the No. 90 overall player in the 2022 On300, took an unofficial visit to Missouri last weekend and is scheduled to announce his commitment next Tuesday, October 19.
On3's DawgsHQ put together a list of other potential and likely visitors that could be roaming the sidelines this weekend.
Florida's 2022 defensive line crop is loaded with talent
The Sunshine State has been one of the best in the country at producing elite college and NFL talent, and this year is no different. That's especially apparent on the defensive line. The No. 1 overall player in this year's class is Fort Lauderdale EDGE Marvin Jones Jr. He's joined in the top ten by recent Oklahoma commit Gabriel Brownlow-Dindy and Opa Locka Monsignor Pace's Shemar Stewart.
Including Nyjalik Kelly, the state has seven defensive lineman and EDGE rushers ranked among the country's top 140 players, regardless of position.