Four-star 2023 EDGE Justin Benton announces top 10 school list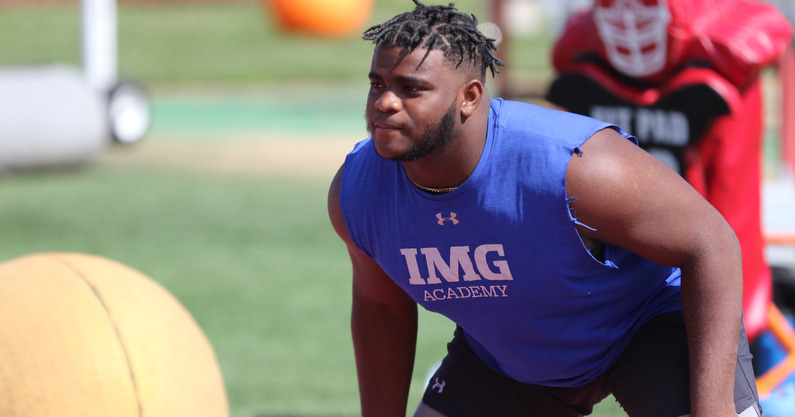 Covington (Ga.) IMG Academy edge junior Justin Benton has begun to descend in his recruitment.
The No. 289 overall prospect in the class of 2023 announced a list of top 10 programs on Tuesday.
Benton's list includes Georgia, Auburn, Penn State, Arkansas, USC, Michigan State, Oregon, North Carolina, Miami and Mississippi State.
"I just wanted to wait after my junior football season to be over so that I could have a better focus on these schools," Benton said.
The Georgia native has been high on Georgia since the Bulldogs offered him as a high school freshman.
His father is a former Georgia linebacker. He has always made his interest in the Bulldogs known.
Back in October Benton visited Georgia and then watched them beat Auburn on the plains in back-to-back weeks.
Benton spoke highly of the Georgia defense following those two visits.
"This Georgia defense is balling week in and week out they are definitely the best in the country they get after the quarterback Relentlessly," Benton said in an interview following the visits. "The Bulldogs are definitely a front runner in my recruitment right now. The love that they show, the tradition, and the defense all stand out."
Benton enjoyed the Auburn atmosphere as well.
"I loved the atmosphere at auburn," Benton said. "It was electric. The fan bases in the south are outrageously loud they love football and in both games, I've been to the crowd has been absolutely wild."
Penn State is another school Benton spoke highly of in October that made the cut.
"Penn State is a great school with a phenomenal legacy," Benton said. "I have a great relationship with coach (James) Franklin and coach (John) Scott. I love and respect what they're building. The game was close, and the team fought hard till the last down. They will bounce back (after loss to Iowa)."