Four-star big man Amani Hansberry narrows list of schools to five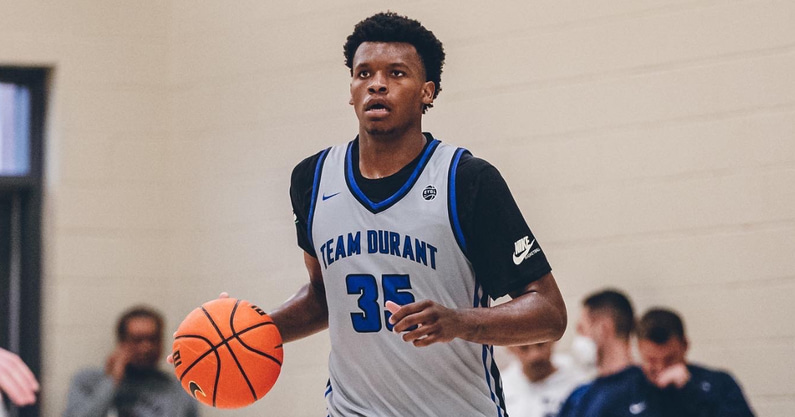 Class of 2023 four-star prospect Amani Hansberry tells On3 he's down to five schools: Penn State, Auburn, Miami, Virginia Tech, and Illinois.
The 6-foot-8, 225-pound power forward out of Baltimore (MD) Mount Saint Joseph also received offers from Villanova, Oregon, Tennessee, LSU, Georgetown, Kansas, and others.
Each of Hansberry's five finalists has hosted him for an official visit, besides Auburn. He's currently working on scheduling his fifth and final official visit with the Tigers.
Hansberry is the No. 133 overall prospect in the 2023 class, according to the On3 Consensus, the average ranking from all four major recruiting media companies. He's also the No. 28 power forward and the No. 3 player in the state of Maryland.
On3's evaluators are much higher than the industry on Hansberry, ranking him 87th nationally in the class.
This summer, Hansberry averaged 12.5 points, 5.8 rebounds, 1.9 assists, and 1.3 blocks per game for Team Durant (MD) on the EYBL Circuit. He also shot 55 percent from the field and 88 percent from the free throw line.
Hansberry breaks down finalists
Penn State: "This is currently a growing program. Coach (Micah) Shrewsberry has a rare basketball mind and is committed to bettering his guys and the program every day."
Auburn: "Coach (Bruce) Pearl is a very energetic and successful coach. He put six forwards in the league in the last few years and has had great team success."
Miami: "I love Coach L (Jim Larrañaga) and his staff. Their playing style is fast-paced with a lot of freedom which is a tempo important to me."
Virginia Tech: "This is a successful ACC program as they won it last year. Coach (Mike) Young is a terrific coach and really runs his sets."
Illinois: "Coach (Brad) Underwood and his staff are committed to development in their players in the gym/weight room and in real life. They have great success and pride themselves as true winners."