Four-Star DL Kayden McDonald narrows list, sets commitment date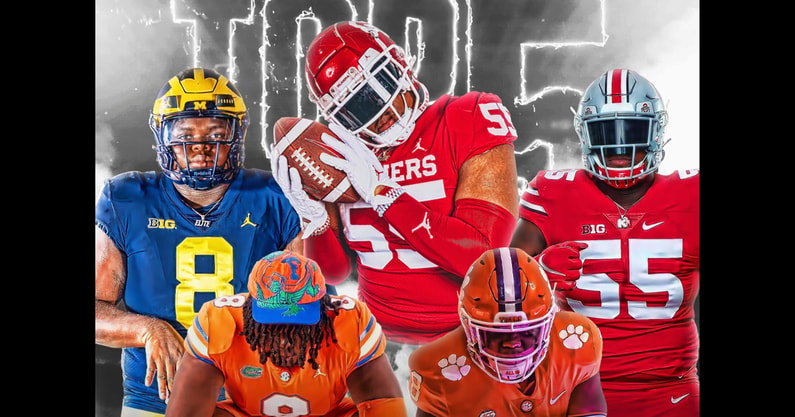 Four-star defensive lineman Kayden McDonald of Suwanee (GA) North Gwinnett High is down to five schools– Michigan, Ohio State, Florida, Oklahoma, and Clemson. 
The 6-foot-2, 325 pounder will announce his college decision on October 31st.
McDonald went in-depth on his finalists.
"It's a blessing to be recruited," McDonald said. "I'm grateful for all the coaches that are recruiting me. "
Michigan
"The #1 public university," McDonald said. "Also, the winningest team in college football. They have the academics, the culture, the staff, the fans, the opportunity to play early, and broadcast journalism connections like Desmond Howard. Chris Hinton was there, my brother and former NG teammate DJ Turner is still there. I've bonded with the team, Mazi and commit Collin. If I decide to go to Michigan, I'll be a part of history. They'll be the first team to win 1k games while I'm there. I'm close to coach Harbaugh, coach Minter, coach Elston, and coach Roney. They say I'm a priority and it shows. Distance is not a factor because it's a quick flight from Atlanta to Detroit."
Ohio State  
"The academics stand out and it's a championship football program," McDonald said. "There are so many opportunities off the field in Columbus. Coach Day and coach J have been recruiting me the longest. They made it clear Columbus is home. Coach Day is cool and I can FaceTime him whenever I have a question or just want to chop it up. Coach J is the goat, he has been in the game a long time and is respected by most of the coaches recruiting me. My former NG teammate Jordan Hancock is there. I love everything about Ohio State.  
Florida 
"I love Florida," McDonald said. " The academics, staff, it's the SEC, and there are big games every Saturday in the swamp. Coach Napier is building his team one player at a time. Coach Chaos coming from the NFL is a technician. We are real close. I'm comfortable with coach Chaos, coach Reid, coach Chaney, coach PT and pretty much all the staff. Me, my mom, and coach Napier are in a group chat and we talk to him all the time. He's a players coach, and I like that. Definitely makes Florida a top school."
Oklahoma 
"Norman is a special place," McDonald said. "The fans make you feel welcome as soon as you step off the plane. I have a good relationship with Coach V, Coach Bates and coach Roof. Coach V is a defensive minded coach, like my HS coach, and he knows what it takes to win a national championship.  His record speaks for itself. We FaceTime a lot. Although it's far, I know coach Bates would take care of me. We either exchange texts or talk on the phone everyday. He keeps me motivated with scriptures and quotes. He knows how to develop players. My Arkansas family is only four hours from Norman so that's one of the reasons they are in my top."
Clemson
"Clemson is close, less than 2 hours away," McDonald said. "I love the culture, and I'm cool with all the commits and know most of the players. My former high school teammate Barrett Carter is there doing really well, and my friend since the playpen, Avieon is committed. Coach Conn, who's friends with my high school coach, is the co defensive coordinator. I talk to him and coach Goodwin. I also chop it up with coach Eason all the time, we have a good relationship."
The Peach State defensive lineman also says that two other schools are in contention
"Texas and Miami are recruiting me now," McDonald said. "Unless I visit, I am focusing on these five schools."

McDonald ranks as the No. 314 player in the On3 Consensus, a complete and equally weighted industry-generated average that accounts for all four major recruiting sites. He also tabs in as the No. 43 defensive lineman and the No. 25 player in the state of Georgia.