Four-star forward TJ Power narrows list of schools to five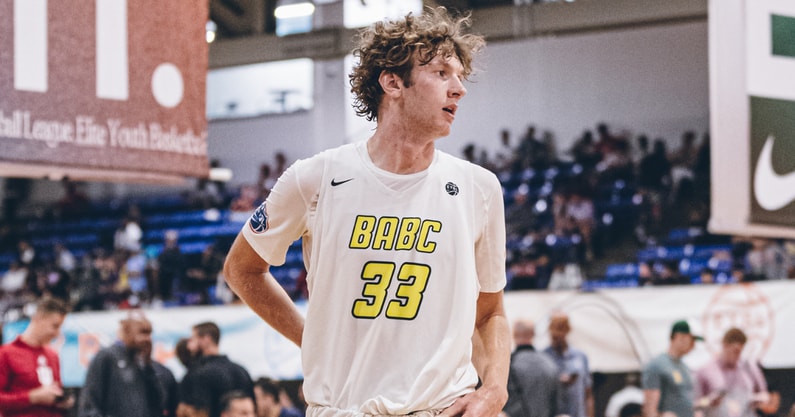 Class of 2023 four-star prospect TJ Power tells On3 he's down to five schools: Boston College, Duke, Iowa, North Carolina, and Virginia.
The 6-foot-8, 210-pound forward from Shrewsbury (Mass.) Worcester Academy is the No. 49 overall prospect in the 2023 class, according to the On3 Consensus, the average ranking from all four major recruiting media companies. He's also the No. 9 power forward and the No. 1 player in the state of Massachusetts.
On3's evaluators are much higher than the industry on Hansberry, ranking him No. 21 overall in the class.
Power is not a newbie to the recruiting ranks, with Virginia, Iowa, Notre Dame, Virginia Tech, Providence, and others chasing him around all summer. However, after averaging an impressive stat line (23.7 PPG 42.2 FG%, 8.0 RPG, 3.0 APG) at EYBL Session 3 in Kansas City, Power's recruitment saw a shift, scoring offers from blue-bloods such as Kansas, UCLA, North Carolina, and Duke.
"It's been crazy," Power said of his recruitment in a recent interview with On3. "The way it's built up, I've been able to build a lot of strong relationships and have seen a lot of schools that I really like. I've played well the last few weekends here recently, and it kind of changes when the blue bloods come in. I definitely value the relationships I still have and I'm going to look into those places hard still, but I'm also excited to build new relationships with these new schools and explore these other options."
Power talks top five
Duke: "I think I really fit the mold of the players Coach (Jon) Scheyer is recruiting. Unselfish players who can score and who all prioritize winning. The culture there would fit me great. Being able to play on the biggest stage is something I've always wanted."
North Carolina: "Coach (Hubert) Davis explained to me how I can use my versatility to do different things in their offense and contribute early in a big way. The opportunity to do that at a place as historic and successful as UNC is very important to me. They play at a fast pace and I just think my game could add to their explosiveness."
Virginia: "Coach (Tony) Bennett and I are all about the same stuff. I'm really impressed with their player development and the winning brand there. I love the discipline they have on both ends of the floor and how efficient they are."
Iowa: "Coach (Fran) McCaffery gives a lot of confidence to his players and they play a style I think would really enhance my game. The success they have had developing players into productive NBA players is intriguing to me."
Boston College: "Staying home and playing for Coach Grant would be a special experience. I could be a part of a young core that contributes to a program on the rise. I love the momentum around there and understand the value of having success so close to home."
Timetable?
Power is aiming for a mid-to-late September decision, although he says that is subject to change.
My breakdown of Power's top five
Boston College is the hometown school for Power and was viewed as the early favorite for him before his name became known nationally.
Iowa and Fran McCaffrey have been recruiting Power "for as long as anyone", and he says "there is definitely that loyalty piece" with the Hawkeyes. Power also has friends on the team and says he really enjoyed his visit.
With Virginia, Power says," Me and coach (Tony) Bennett have built one of the strongest relationships I've had with a coach." In addition, Power grew up a fan of UVA.
Duke and North Carolina are the two newcomers, but both programs grabbed him for his two most recent official visits. The way North Carolina played Brady Manek, really caught Power's eye. He also has a lot of UNC fans in his extended family and referred to his conversation with head coach Hubert Davis as "refreshing." He has a great deal of respect for the history of the North Carolina program, even going as far as to say "there might not be a more historic place than UNC basketball."
Power says it was a "surreal" moment when Duke offered. He grew up watching the Blue Devils and followed the player's journeys at Duke. Power also sees the fit in Durham, saying he "could be a core guy at Duke" and compete for "national championships right away."
If you want to read Power talk more about Duke and North Carolina, read here.
To read more about Viriginia and Iowa from the words of Power, read here.
What's Power looking for in a school?
"Academics and then basketball wise, a place where I can be versatile and be free, kind of," Power said to On3 previously. "I want to have the ability to utilize my size, to get to my spots and things like that.
"So places that play with a lot of freedom and confidence, and then having a good relationship with the coach, I think is what builds that confidence. So I would say the big things for me are academics, play style and a relationship with the coach. And then I would throw in like player development as well is big for me."
Scouting Summary
"TJ Power has a toughness about him. At 6-foot-8, that is one of the first things you notice in his game. As the game progresses, you see the full skill set. He is an excellent passer, able to initiate off the rebound or line up across multiple areas on the floor and make plays. The footspeed will be a question, but he understands angles and help-defense. We would like to see Power more aggressively look to score at times, but his ability to fill a stat sheet makes everyone on the floor better. Power is also an MLB pitching prospect."

On3's Jamie Shaw, National Recruiting Analyst