Four-star recruit Dailyn Swain sets commitment date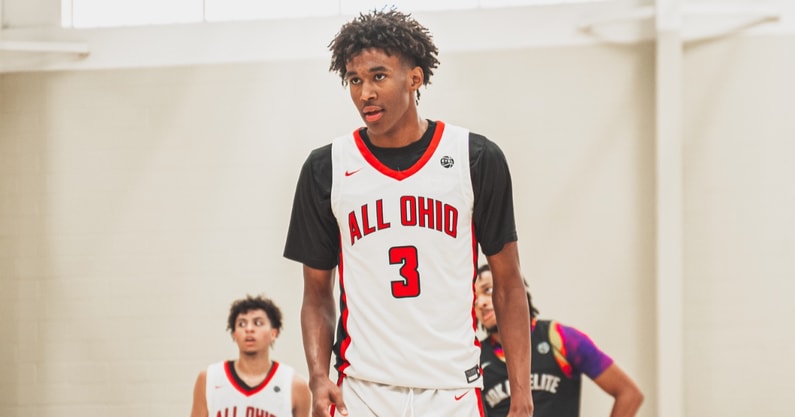 Columbus (OH) Africentric Early College four-star prospect Dailyn Swain tells On3 he will announce his college decision on Friday, September 2nd at 5 PM ET.
Earlier this month, the  6-foot-6 small forward released his top five schools: Ohio State, Arizona State, Xavier, Clemson, and Arkansas.
Xavier was the only school that Swain officially visited. He visited the Musketeers last weekend. Ohio State was set to host him on September 3rd, but that trip will no longer occur. The Buckeyes' are the hometown school. Fun fact: Swain's AAU teammate, Devin Royal, committed to Ohio State earlier this week. Royal and Swain are also teammates with George Washington III who is also committed to the Buckeyes.
Swain is the No. 90 overall prospect in the 2023 class, according to the On3 Consensus, the average ranking from all four major recruiting media companies. He's also the No. 17 small forward and the No. 2 player in the state of Ohio.
This summer, Swain averaged 9.6 points, 4.8 rebounds, 3.8 assists, and 2.3 steals per game for All Ohio Red on the EYBL Circuit. He also shot 52 percent from the field and nearly 80 percent from the free throw line.
Swain breaks down finalists
In a previous interview with On3, Swain discussed each of his final five schools.
Ohio State: "Ohio State is my hometown school and it's right in my backyard. I grew up an OSU fan and to be recruited by them means a lot to me."
Arizona State: "They have been recruiting me for a while but started to heavily recruit recently. I like their play style a lot and I think I would thrive in that program."
Xavier: "Xavier has been really heavily recruiting me and I like the school and program. Coach (Sean) Miller has developed many players and has gotten them to the NBA and that is very intriguing to me."
Clemson: "Clemson is fairly new in my recruitment process. I am still working on building relationships with the staff. I am setting up a visit to the campus in the near future."
Arkansas: "Arkansas is a great program and I like their play style a lot. Coach (Eric) Musselman has produced a lot of talent in the past couple of years. I am hoping to set up a visit with them soon."
Swain discusses his game and what he's looking for in a school
In a previous interview with On3's Jamie Shaw, Swain described his game and who he tries to emulate as a player.
"I'm a positionless, super versatile guard," Swain said. "I do whatever the coach wants me to do on the floor, play defense, shoot, facilitate, anything he needs. I like Paul George and Shai Gilgeous Alexander. Their ability to control the offense and play so smooth and at such a tall height, like me."
What's Swain looking for in a program?
"I want to go to a school where I can come in and play, make an impact," he says. "Winning is big too. I wouldn't say location really matters to me, but fit. Player development is a big piece for me too."
Scouting Summary
Dailyn Swain is a length guard with a projectable frame. He is comfortable on the ball, initiating in half and full court. Swain sees the floor well and is slippery, in transition, attacking the rim. He is very unselfish; you would almost like to see him be more aggressive in attacking the basket. Swain is also very you for his grade, with an '05 birthday. He will need to continue adding weight and grow in aggressiveness. There are a lot of tools to like here with some ceiling for continued growth. – On3's Jamie Shaw