Four-star SG Dusty Stromer names final four schools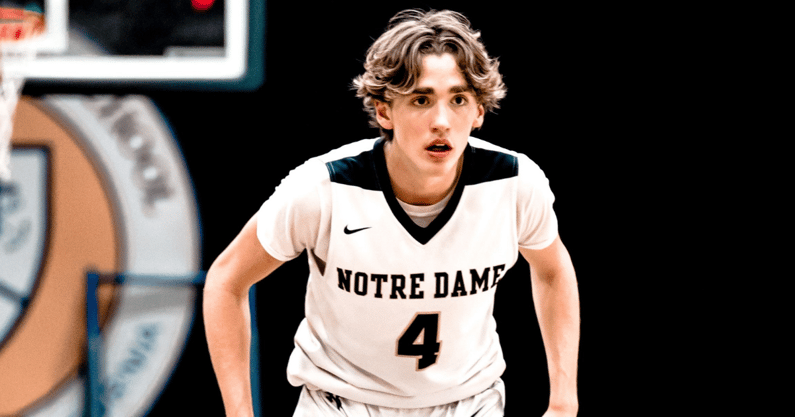 Sherman Oaks (Calif.) Notre Dame shooting guard Dusty Stromer has narrowed his list of schools to four – Gonzaga, Arizona, UCLA, and Houston.
The 6-foot-6 prospect also received offers from Louisville, Illinois, USC, UNLV, among others.
Stromer made an official visit to Gonzaga in mid-February, as well as an unofficial trip in November. He also took an official visit to Arizona in December. UCLA, the local program, has hosted him unofficially several times. Stromer has not yet visited Houston.
Stromer is ranked as the No. 39 overall recruit in the 2023 On3 Consensus, a complete and equally weighted industry-generated average that utilizes all four major recruiting media companies.
Stromer talks schools involved
In a previous interview with On3, Stromer gave his thoughts on Gonzaga, Arizona, and UCLA.
Stromer enjoyed his recent official visit to Gonzaga.
"Man, it was amazing," Stromer said. "I really loved it."
He also had this to say about his unofficial trip to the Zags in November.
"I really loved it. I saw the Texas game and the crowd, the atmosphere in that gym was insane. The vibe and the atmosphere was unreal so I definitely had a lot of fun."
Arizona: "They have a new head coach, Tommy Lloyd, I really, really like him. Their style of play, I really, really like. I think they do a really good job of pushing the pace, playing fast, and playing free which I love. They're really fun to watch and I'm really getting along with the coaches well."
UCLA: "I love the coaching staff. Me and my dad…especially my dad, he really, really gets along with the coaches and I think that's a huge part of it, like a real relationship with the staff. I feel like we have a really good relationship. It's close to home so my mom likes that a little bit."