Freddie Dilione: 4-star talks Virginia official; are Alabama, Texas, and Houston next?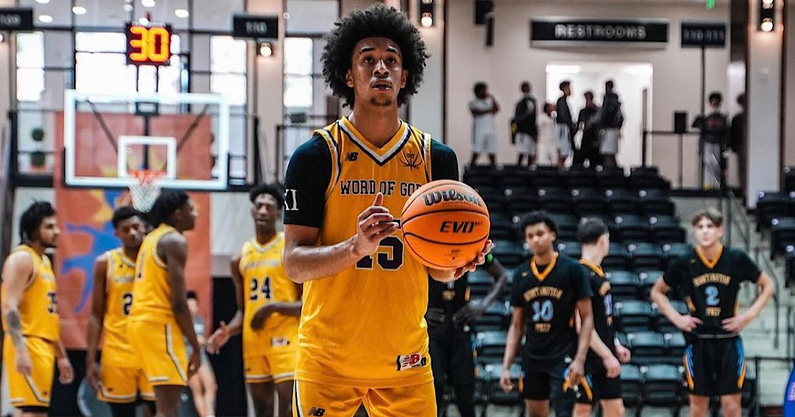 There has been a very loud swell out of North Carolina about the play of 2023 Freddie Dilione. The 6-foot-5 guard averaged over 20 points per game at Raleigh (NC) Word of God, and things have not slowed down in travel ball.
While the 2023 On3 Consensus (the industry average) has Dilione un-ranked, On3 has Dilione currently ranked No. 60 in his 2023 class.
"I've been in the gym constantly working on my jump shot this season. I'm working hard on my body and my frame right now. I don't really watch basketball like that, to be honest. I get in the gym and work and try to be the best I can be."
Playing with Team Loaded NC on Adidas' 3SSB circuit, a line of coaches watched in April. On3 sat down with Freddie Dilione recently to talk about the latest in his recruitment.
"My most recent offers are Texas and Virginia," Dilione said. "I took an official visit to Virginia last week."
Dilione talks recruitment
Virginia: "I learned a lot about the history behind the program. Coach Tony Bennett was a real cool dude; he impressed me a lot on the visit. They went through clips on how my game fits with what they do, playing in ball screens and bringing the ball up in transition. It made sense; I can see myself fitting in with them."
Texas: "The assistant called me and put me on a three-way with Coach (Chris) Beard. They offered me right there; it was pretty cool. They like how versatile I am, with my size, how I can handle the ball and then make shots."
"We don't have any other official visits scheduled yet," Dilione said. "We are talking with Texas, Alabama, and Houston."
Alabama: "Their play-style is what stands out. Coach Nate Oates came by my school, and he broke down the film of how I fit into their system. They play very fast and were ranked high in most threes taken. They showed me the graph and everything about how they play."
Houston: "The coach lets their guards rock out, so their play-style sticks out to me. They were a top ten team most of the year, but how they let their guards play is what I really like about them."
This and that
"I have a lot of schools talking to me about coming out in 2022," Dilione said. "No. I am definitely staying in 2023."
"I want to hear from the blue bloods, any and all of them," Dilione said. "Right now, only Kentucky has reached out to me; they were just checking up and let me know they would be watching."
Dilione's take
"I want to narrow things down after the summer," Dilione said. That isn't final yet, but that is what we're thinking.
"On these visits, I'll be looking at the coaching staff, how much time they spend with you, and the resources they put for you. Of course, I want to see what the facilities look like and if they are a winning program. I just want to look for somewhere that feels like family."
On3's take
Freddie Dilione is a confident bucket getter. He has good positional size with lengthy arms and broad shoulders. He is comfortable on the ball. Dilione is naturally an off-guard, secondary ball-handler, although he has shown he can be a primary ball-handler in pick and roll type situations. The reads are the question, decisively getting to his spots and scoring off the ball. Dilione is a good straight-line athlete, and his confidence and ability to score on the ball are notable.