Gabriel Brownlow-Dindy flips commitment from Oklahoma to Texas A&M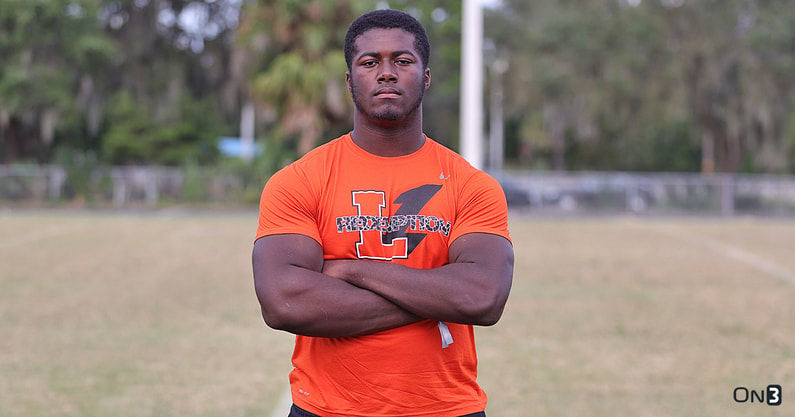 Lakeland (Fla.) five-star defensive lineman Gabriel Brownlow-Dindy shocked the college football world on Monday as he flipped his commitment from Oklahoma to Texas A&M.
The flip vaulted the Aggies to the nation's No. 1 class according to the On3 Consensus Team Recruiting Rankings.
Brownlow-Dindy added a statement on why he backed off his pledge to the Sooners:
"My family and I could not have been happier with the coaching hire made by the University of Oklahoma," the statement read. "We, obviously, have been Brent Venables fans for many years. He's an intense coach, and he seems like a great man. With that said, due to all the recent changes in the coaching staff, the departure of coach Riley and the uncertainty regarding coach Thibadeaux (the two men involved almost exclusively in my recruitment), I have decided to go in a different direction. My family are Sooners, and that will never change, but my commitment was influenced greatly by my relationships with coaches Riley and Thibs. I want to express my deepest appreciation to all of the Sooners family. I will be praying for your great success moving forward, and ask that I can move forward with your well wishes."
The 6-foot-3, 280-pound Brownlow-Dindy committed to the Sooners over the Aggies back in October. However, when former Oklahoma head coach Lincoln Riley left the Sooners for USC, it caused Brownlow-Dindy to question his pledge. Brownlow-Dindy admitted he did now like how Riley left the Sooners. Jimbo Fisher and Texas A&M remained after the five-star recruit and now benefit by holding his commitment.
Brownlow-Dindy spoke about the importance of relationships with coaches during his recruitment. In fact, those relationships were one of the biggest deciding factors in his decision to go to Oklahoma.
"Those relationships are the reason I chose the school I chose and those relationships are gone," he said.
The time between the coaching change and national signing day was too close for Brownlow-Dindy to be confident in his decision with Oklahoma.
"I have to sign on the 15th and it really didn't give me enough time to see what my future holds there," he said.
He added the Texas A&M staff kept up with him after his commitment to Oklahoma: "I talked to them as friends, not just recruiting, while I was with Oklahoma."
Now, those bonds have secured the Aggies a major commitment.
Gabriel Brownlow-Dindy Scouting Summary
On3 Director of Scouting Charles Power wrote the following about Gabriel Brownlow-Dindy as aprospect:
Perhaps the most athletic and twitchy defensive lineman in several cycles. Burst on to the national radar prior to his junior season after putting on a testing display at the Elite Underclassmen Camp in Jacksonville, running a 4.8-second electronically timed 40-yard dash at 278 pounds. Has quick-twitch initial movement skills with fast and strong hands. Aggressive out of his stance with the hands. Wins with both quickness and physicality. Disruptive force that makes plays behind the line of scrimmage with regularity. Was highly productive as a junior with 29.5 tackles for loss. Will be a disruptor in the run game, and interior pass rusher at the next level. Fast closer with long-arms that makes play from the hash to the boundary. Plays defensive end in both four and three-man fronts for Lakeland High, but projects to the interior long-term.
The On3 Consensus, a complete and equally weighted industry-generated average, currently ranks Brownlow-Dindy as the nation's No. 8 overall prospect, the No. 3 defensive lineman, and the No. 2 player in the state of Florida for 2022.