Game of the week: 5 things to know about Michigan-Michigan State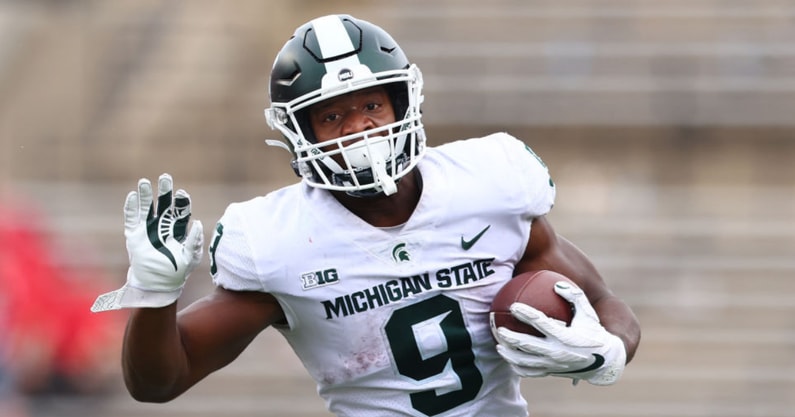 Each Friday during the season, we spotlight the best game of the weekend. This week, it's No. 6 Michigan (7-0) at No. 8 Michigan State (7-0) in a huge Big Ten matchup.
It has obvious implications for the Big Ten East race; it also will help shape the first set of College Football Playoff rankings, which come out Tuesday.
It's just the third matchup of AP top-10 teams in Spartan Stadium in history; the first was the famous Michigan State-Notre Dame game in 1966, when the top-ranked Irish and second-ranked Spartans battled to a 10-10 tie. (You can read the great Dan Jenkins' game story in Sports Illustrated here — complete with a bemoaning of the lack of a playoff. In 1966.)
The contest kicks off at noon ET on Fox; Gus Jackson will handle the play-by-play and Joel Klatt is the analyst.
Here are five things to know about the Michigan-Michigan State game, plus the predicted final score from the On3 national staff.
1. Michigan State RB Kenneth Walker III
Walker, a transfer from Wake Forest, leads the nation in rushing at 142.4 yards per game; he is 3 yards shy of 1,000 on the season. He has had two 200-yard games (against Northwestern and Rutgers), and is averaging 6.6 yards per carry. Walker is comfortable running between the tackles, but he definitely can turn the corner, too: He leads the Big Ten with 10 runs of at least 20 yards (that's tied for second nationally) and also is second nationally with three runs of at least 50 yards. Walker has been held under 100 yards twice, and in those games, Michigan State didn't even get to 300 yards as a team. It would follow, then, that stopping Walker equates to stopping the Spartans' offense. Michigan's run defense has been stout; the Wolverines have allowed just three rushing TDs. The Wolverines have allowed one 100-yard rusher (Rutgers' Isaih Pacheco). LB Josh Ross and Ss Daxton Hill and Brad Hawkins are physical presences against the run.
2. Michigan's rushing attack
Michigan coach Jim Harbaugh rebuilt his offensive staff in the offseason, and the result has been a rushing attack that leads the Big Ten (253.3 yards per game) and is miles better than last season's (131.5 ypg). The Wolverines run the ball on almost two-thirds of their offensive snaps (66.2 percent, though that percentage in the past three games has been 58.1). RBs Blake Corum and Hassan Haskins have combined for 1,331 yards, 20 touchdowns and 5.6 yards per carry. Wisconsin did a nice job shutting down Michigan's rushing attack; then again, the Badgers shut down everyone. What's interesting is that Rutgers did the same to the Wolverines, and the Scarlet Knights' run defense is nothing special (worth noting is that Michigan State rushed for 249 on the Scarlet Knights, the most they've allowed anyone). Corum has four 100-yard games, Haskins three. Corum has a nice burst, while Haskins is more of a power guy. No individual has rushed for 100 yards and no team has reached the 200-yard mark against the Spartans.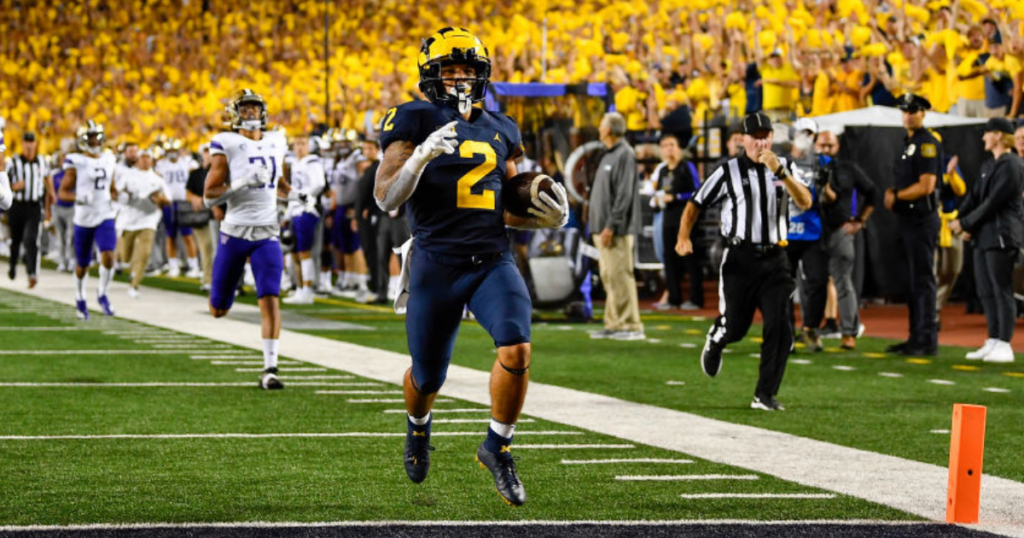 3. Michigan State's passing attack
Both teams are relatively run-heavy, but Michigan's run percentage (66.2 percent of its offensive snaps) still dwarfs Michigan State's (57.7 percent). When it does pass, Michigan State generally has been successful (more so than Michigan). Payton Thorne is completing 61.2 percent of his passes, though he is coming off his worst performance of the season, against Indiana on October 16. Still, he has thrown for 15 TDs and is averaging 9.3 yards per attempts. WRs Jalen Nailor and Jayden Reed are big-play threats. Both have 27 receptions; Reed's have gone for 562 yards (20.8 yards per catch) and five touchdowns, and Nailor's have gone for 512 yards (18.9 ypc) and six TDs. Indiana did a good job shutting down Walker and forcing the Spartans to the air, and Thorne was just 14-of-26 for 126 yards, one TD and two picks (half his season total). Despite its poor record, IU is solid defensively. But Michigan's defense is better, and it'll be interesting to see how Spartans offensive coordinator Jay Johnson tries to attack downfield. Michigan is holding opposing quarterbacks to a 54.6 completion percentage. Keep an eye on Michigan edge rusher Aidan Hutchinson, who is one of the best defensive players in the nation.
4. Big Ten East race
Michigan, Michigan State and Ohio State are each 4-0 in the division; Penn State was expected to be a division contender, but the Nittany Lions (who play at Ohio State on Saturday night) already have two league losses (though both are to West Division teams) and are in spoiler mode. The loser of this one obviously will have a razor thin margin of error the rest of the way. Michigan State is at Ohio State on November 20, and Ohio State is at Michigan on November 27. Michigan is at Penn State on November 13, and the Spartans play host to the Nittany Lions on November 27.
5. Recent history
This will be the 114th meeting and Michigan owns a decided 71-37-5 advantage. But Michigan won 33 of those (against six losses and with three ties) pre-1950 and the series is much closer of late; indeed, in the past 15 years, Michigan State leads 9-6. The Spartans won last season to make it 3-3 in the past six meetings. This is the first time they meet when both are 7-0. In addition, this is the first time since 1964 that both will be in the top 10 and the first time since 2010 that both are unbeaten when they play.
On3 predictions
Mike Huguenin: Michigan State 23-21
Ivan Maisel: Michigan 19-17
Charles Power: Michigan 23-17
Matt Zenitz: Michigan 31-20