Gary Barta reveals what's been long-suspected about College Football Playoff rankings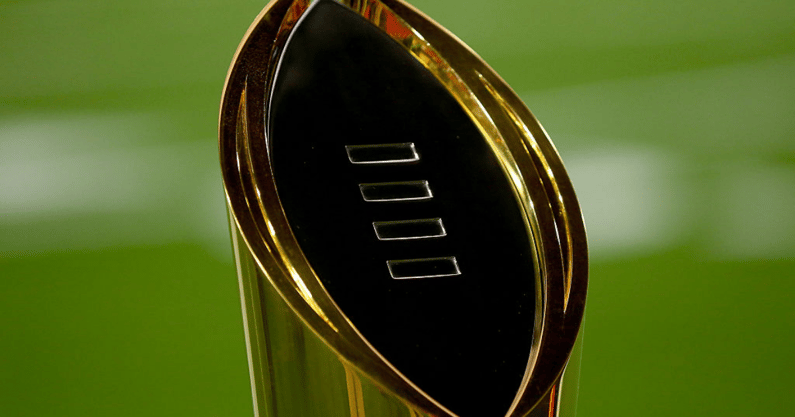 Although College Football Playoff chairman Gary Barta typically argues that the committee's judging practices are as objective as can be, he admitted this week that it's more subjective than that.
"You know, I would say we already have formed, the committee has already formed opinions," Barta said on Tuesday night's teleconference after releasing the newest CFP rankings. "So we've already formed a lot of, using the whole season, we formed a lot of thoughts about all of [the teams in the Top 10]. And so we'll use that information. We'll still use that information when we come back on late Saturday night into Sunday morning."
Barta went on to explain what kind of impact this weekend's conference championship games could have on the College Football Playoff.
"We're not looking for any one thing in those champ games," Barta said. "We're looking to see what that adds to what we already believe about those teams. I mentioned earlier Oklahoma State showed the committee that in a playoff-like environment against Oklahoma in a rivalry game, they really found a way to win. We'll see how that game goes against Baylor. We'll see how Baylor does against Oklahoma State.
"But we all watched the games together. So we'll have a chance while we're watching – I'm going to be sitting in between an NFL Hall of Famer and a long-time, couple long-time collegiate coaches and other ADs, and you have an opportunity to talk while you're watching, which is really invaluable."
What Barta revealed in his response is that the committee's preconceived notions on the CFP teams can impact their choices, despite claiming to approach each week with fresh eyes.
Kirk Herbstreit poses crazy CFP scenario
As if the 2021 college football season needed more intrigue after Rivalry Week, SEC analyst Kirk Herbstreit decided to share "the craziest of scenarios." His chaos-filled proposal includes several major upsets that would shake up the College Football Playoff picture.
Herbstreit prefaced with a caution: "Not predicting (relax) simply asking WHAT IF."
Kirk Herbstreit posited a scenario whereby Alabama loses to Georgia, Iowa beats Michigan, Houston beats Cincinnati and Baylor beats Oklahoma. In that scenario, No. 1 undefeated Georgia would obviously be in. Benefitting from the lack of a conference championship game, Notre Dame would be in with just one loss to Cincinnati.
However, big questions arise for spots three and four. Kirk Herbstreit suggests the Baylor Bears could be in as the Big 12 champions. Additionally, a two-loss Oregon could also regain some steam with a win over Utah.
Depending on their performance versus Georgia, a two-loss Alabama could still earn a spot in the CFP. However, Michigan and Oklahoma State have an angle as well.
Michigan losing to Iowa and Cincinnati losing to Houston would be the biggest upsets of the day. Both are 10.5-point favorites in Vegas.
Conference championship action kicks off on Friday with the Pac-12 bout between Oregon and Utah.