Jacksonville to host Georgia-Florida matchup in 2024, 2025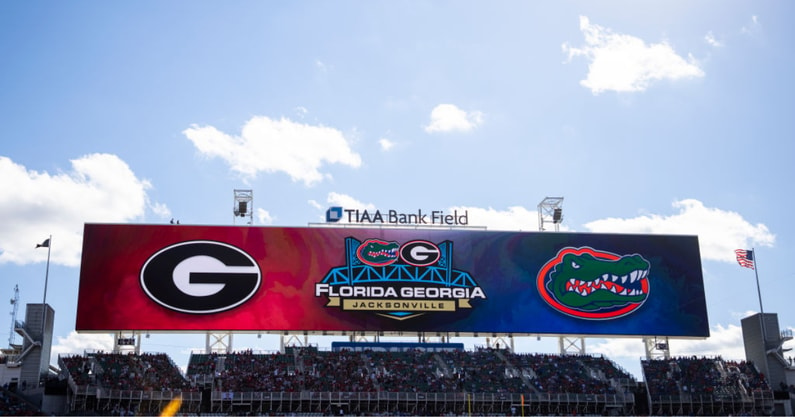 Georgia and Florida are one of the longstanding college football rivalries to still be played at a neutral site. Jacksonville have hosted two of the SEC's most storied programs for nearly 90 years, creating an incredible split atmosphere. There has been doubt over the game's future in Jacksonville but there was positive news to come out on Wednesday.
For the 2024 and 2025 seasons, the Bulldogs and Gators will continue to play their rivalry game in the city of Jacksonville. Previously the agreement between the city, Georgia, and Florida was set to expire following the 2023 season.
TIAA Bank Field has been the venue and will continue for the late October/early November contest.
"Jacksonville has been the proud home of the Georgia-Florida game since 1933," Jacksonville mayor Lenny Curry said. "We are excited to welcome thousands of Dawgs and Gators to Jacksonville in 2024 and 2025. I want to thank the University of Georgia and the University of Florida for their continued faith and investment in our city."
Georgia and Florida first met all the way back in 1904 and played five times before becoming an annual matchup in 1926. Six different cities have played host throughout history — Athens, Gainesville, Jacksonville, Macon, Savannah, and Tampa.
However, Jacksonville has long been settled as the home of the rivalry. For at least the next three season, the unofficial World's Largest Outdoor Cocktail Party is not going anywhere.
Georgia-Florida staying in Jacksonville, staying away from campuses
The last time Jacksonville did not host the Georgia-Florida game was in 1995 and 1996 as TIAA Bank Stadium was being built. A home-and-home series took place in Athens and Gainesville but the Gators took both games in convincing fashion.
Going back to having the game on campuses has been a hot topic of late, especially for Georgia head coach Kirby Smart. He wants to be able to take advantage of a full weekend of recruiting, hosting high school prospects at Sanford Stadium in front of the program's biggest rival.
"When it comes down to it, the very very basic element of everything comes back to, number one, money, and number two, recruiting and getting good players," Smart said prior to the 2022 Florida game. "I firmly believe that we'll be able to sign better players by having home and home because we'll have more opportunities to get them to campus.
"But I also think there's a financial factor that factors into that with having the game there and being able to make more money for the university possibly there. So you have to weigh both of those and make really good decisions."
Smart does still enjoy playing in Jacksonville, living through the rivalry dating back to his time as a Georgia player. He will get another opportunity to do so as a coach on Oct. 28, facing off against Billy Napier.