The wait is over: Georgia is the national champion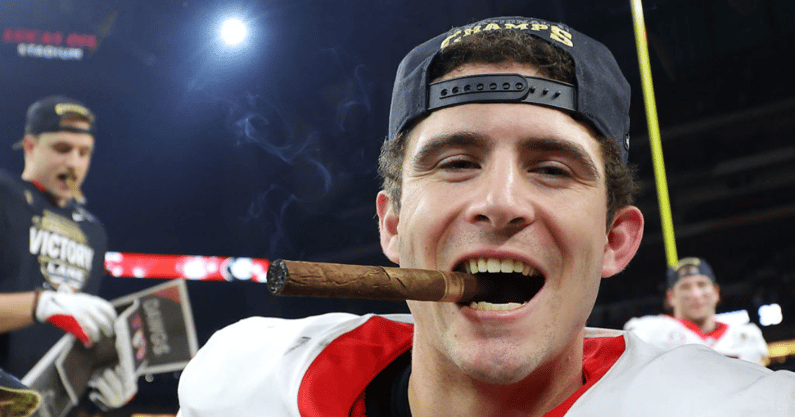 INDIANAPOLIS – The celebration began before the final whistle sounded, years of frustration melting away, the joy of the vanquished who rose to crush their nemesis. Georgia had won its first national championship since 1980. Georgia had won it all by beating Alabama 33-18, and if you asked a Dawgs fan to solve the conundrum of what felt better, that fan couldn't have answered anyway. He, she, they – everyone in red and black – was too busy sobbing.
Quarterback Stetson Bennett, the fifth-year former walk-on who made up with determination and smarts what he lacked in size and talent, began crying on the sideline in the final minute, right after teammate Kelee Ringo sealed the victory with a 79-yard pick-six.
"I hadn't cried in years. That just came over me," Bennett said.
The Lucas Oil Stadium cameras showed one fan after another in tears, up to and including Mary Beth Smart, the coach's wife. The coach? He cried, too.
"I was hugging Vince Dooley after the game," Kirby Smart said, referring to the Hall of Fame coach of the Dawgs' last national champion. "I'm in tears. He's in tears."
Who wouldn't be delirious? The Dawgs ended a seven-game, 13-year losing streak to the Crimson Tide, a streak that included one national championship game, three SEC title games and three games in which Georgia led by 10 points. That includes the SEC Championship Game last month, when the Dawgs raced out to a 10-0 lead only to lose 41-24.
This wasn't the Georgia team that appeared shocked to find a team as fast and physical as they were. That Georgia defense, the one that served as the palooka that Alabama quarterback Bryce Young pummeled to win the Heisman Trophy, was nowhere to be seen Monday night. This was the Georgia team that we saw in the other 13 games this season, the team with the suffocating defense, the flawless special teams and an offense that did its job.
What made it even sweeter is that Georgia beat Alabama with Nick Saban's own gospel, by dominating the fourth quarter. Georgia, down 18-13, scored three touchdowns in the final 8:09 to win going away.
"If we had to lose a national championship, I'd rather lose one to one of the former assistants who certainly did a great job for us and has done a great job for his program and his team," said Saban, now 25-2 against his former aides. "If any team deserves — they deserve it. They played great all year. We were the only team to beat them in the SEC Championship Game. And we just couldn't finish the game tonight like we wanted to. But I think Kirby has done a really, really good job there. I congratulated him on the win. I'm really proud of him."
Smart won his first national championship in his sixth season as coach. He came into the game 65-11 against the rest of college football but 0-4 against Saban. Smart wanted to win so bad, wanted to beat his former boss so bad, that more than once he overcoached. After the victory, he ran around hugging and headlocking his players, his face reflecting absolute joy.
When Smart promised the celebration would spill out into the sub-freezing Indiana night, he recalled that last national championship by quoting the heart, soul and late Voice of the Dawgs, Larry Munson. "I can tell you this," Smart shouted into the mic held by ESPN's Rece Davis. "There's going to be some property torn up in Indianapolis tonight."
Munson said that in the "Run Lindsay Run" broadcast, the 26-21 victory over Florida in 1980 that was the most important play of that national championship season. The most important play of this national championship season, the play that put Georgia on the path to victory, didn't have a thing to do with Georgia.
Alabama prides itself on its "Next Man Up" philosophy, especially late in the season, when wide receiver John Metchie and cornerback Josh Jobe suffered season-ending injuries. But the Tide may have reached the limits of its depth at the 12:26 mark of the second quarter, when All-America receiver Jameson Williams' left leg crumpled after he caught a pass for 40 yards. Williams fell to the ground untouched. He walked off under his own power. But he didn't play another down.
"He has a knee injury. We won't know the extent until we get an MRI," Saban said. "He actually wanted to play in the second half and the medical staff wouldn't let him, which I think was smart. This guy has a future. … When you take him out of the lineup, it has to have some impact."
Without Williams, Alabama didn't have the deep ball that had been so effective at keeping Georgia's defense honest. Wide receivers Traeshon Holden and Agiye Hall, who had 16 career catches between them coming into the game, combined to make half that many against Georgia. That Young found a way to throw for 369 yards is a credit to his wiliness and the dink-and-dunk improvisations of offensive coordinator Bill O'Brien. But there was no way that would suffice in a fourth quarter with the national championship on the line.
Alabama became the 12th of Georgia's 15 opponents to score its season-low against the Dawgs.
The final score gives no indication of the defensive artistry displayed by both teams for the first 52 minutes of the game. Neither team scored a touchdown until Georgia running back Zamir White went in from the 1 with 1:20 left in the third quarter. That put Georgia ahead 13-9, and that point-after looked awfully big when the Bulldogs forced the Tide into a field goal with 12:59 left after it had first-and-goal from the 5.
It took only three plays for the pace of the game to quicken. Alabama linebacker Christian Harris, who sacked Bennett for a 14-yard loss on the Dawgs' first play from scrimmage, took him down again as Bennett tried to throw deep in Alabama territory. The ball wobbled toward the sideline, and Tide safety Brian Branch snatched it just before he stepped out of bounds at Georgia's 16 with 11:35 left.
The officials ruled that Bennett fumbled, the replay official let the call stand and Alabama had a chance. Alabama's three previous trips into the red zone resulted in field goals. That's nothing unusual – Georgia had allowed only eight red zone touchdowns this season. But Young pushed the Tide into the end zone, connecting with tight end Cameron Latu for a 3-yard touchdown. A two-point conversion failed, and Alabama led 18-13 with 10:14 to play.
But that mistake, rather than sending Georgia into a tailspin, galvanized the Dawgs' determination, no one more so than the quarterback. "I knew that once I fumbled the ball that I wasn't going to be the reason we lost this game," Bennett said.
Georgia needed only four plays to go 75 yards, the last 40 coming on a perfect deep ball to Adonai Mitchell, who beat corner Khyree Jackson to make the catch and put the Bulldogs ahead for good. Bennett, who finished 17-of-26 for 224 yards and two touchdowns, won the Offensive Player of the Game honor.
"It was the defense that kept us in the game while we were stumbling over our feet in the first half," Bennett said. "They won this game for us."
Asked to describe his journey from walk-on to star, Bennett begged off.
"I can't articulate it," he said. "I'm not that smart. It feels great."
Everyone in red and black felt great. They'll feel great for a long time. They will sing in Dahlonega and Valdosta, bellow from Social Circle to Bainbridge, where Sonny Smart coached his son Kirby almost 30 years ago. After Monday night, the song "(Back Home Again in) Indiana," for so long identified with the Indy 500, applies to the Georgia Bulldogs. They will long for their Indiana home.