Get your popcorn ready: Lane Kiffin and Ole Miss are primed for fascinating season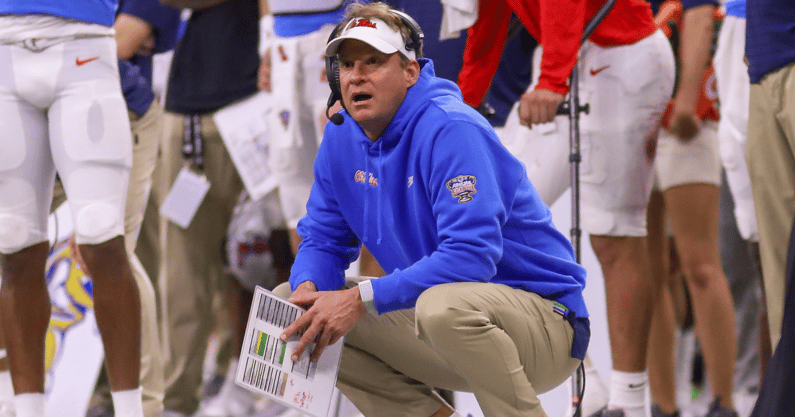 After beating archrival Mississippi State in the Egg Bowl for the second straight season in 2021, Ole Miss head coach Lane Kiffin tweeted "takes everyone" and "#PartyInTheSip."
As the Rebels celebrated their best regular season in school history, quarterback Matt Corral, who rewrote the record books in Oxford, told ESPN's sideline reporter, "This is the same team that was with us when we were 5-5, when we had losing records.  It was in us. We just needed people to bring it out of us."
Ole Miss certainly put on a show during its special season, but a turbulent offseason has made 2022 just as fascinating to see how it all plays out. 
Ole Miss exceeded expectations a year ago, and Lane Kiffin looked to parlay a surprising 10-win season with a fresh start elsewhere. It was an open secret in college football that Kiffin had wandering eyes for Miami, Oregon and other openings this past offseason, only no one seemed overly interested in bringing the Lane Train to town. Instead, Kiffin resorted to signing a hefty contract extension with Ole Miss.
But Kiffin's assistants did bolt Mississippi. Nearly all of them. 
The Rebels saw nearly unprecedented coaching turnover, with the last-one-out-the-door-turns-off-the-lights kind of vibes happening in Oxford. In a single offseason, Kiffin had to replace every coordinator on his staff. 
Offensive coordinator Jeff Lebby, who was the primary play-caller for the Rebels last season, left for Oklahoma. Defensive coordinator DJ Durkin jumped ship for Texas A&M, while special teams coordinator Coleman Hutzler went to Alabama and strength and conditioning coordinator Wilson Love left for Oregon. Kiffin saw multiple other assistants on both sides of the ball leave for similar positions elsewhere, too. 
These were the people who Corral praised for "bringing the best" of the Rebels' roster and now they're all gone. With Corral off to the NFL, too, there's a massive leadership vacuum in Oxford. 
It would be one thing if Lane Kiffin simply had to address losing his quarterback, his top two tailbacks and three best receivers. He's the Portal King after all, but he's certainly not Nick Saban, who's the actual master at navigating constant coaching turnover. 
Can Kiffin manage a roster rebuild + a lack of staff continuity? We're going to find out. 
Ole Miss saw 17 players off last season's team enter the transfer portal, but Kiffin responded by reloading with his own Rebels Reinforcements, grabbing a quarterback (USC transfer Jaxson Dart), a pair of talented tailbacks (TCU's Zach Evans and SMU transfer Ulysses Bentley), a former blue-chip tight end (USC's Michael Trigg), a couple receivers (Mississippi State transfer Malik Heath and Louisville's Jordan Watkins), as well as many as six new potential defensive starters (Auburn defensive tackle J.J. Pegues, Georgia Tech end Jared Ivey, TCU pass rusher Khari Coleman, Auburn safety Ladarius Tennison, Iowa State safety Isheem Young and Central Michigan linebacker Troy Brown). 
Kiffin is betting on a plug-and-play approach to maintaining Ole Miss' momentum, hoping to replicate what Mel Tucker did at Michigan State last season by completely overhauling his roster with an influx of transfers and winning instantly. But the secret sauce to Tucker's success in East Lansing wasn't just fresh faces, but his ability to create true chemistry with the old and the new. Kiffin must pull off the same trick in Oxford, and he admitted as much in a recent interview with Rich Eisen.
"It looks good on paper. People say, 'Oh, you guys were No. 1 in the transfer portal.' Who cares. That doesn't mean anything. You don't get trophies for that. And just because things look good on paper and good players doesn't mean they mesh together.
"Look at basketball, NBA basketball. These teams are supposed to be great, but just because you have a couple great players on the rosters doesn't mean (you win). That's not how it works. So we've got a lot of work to do putting them together, getting them to buy into the culture and all that. It's kind of like we've got all these new adoption kids that were raised in all these different places. It's not like they're all high school kids. These kids are three, four years at other colleges. So that's a new, other world to try to do, we're going to do."
The good news for Ole Miss is time is still on its side. 
While the spring has been marred by injuries, including lots of newcomers missing time, Kiffin has all offseason to pick a starting quarterback between Dart and Luke Altmyer. The roster has time to gel, too. 
The Rebels' 2022 schedule is one of the most lopsided in the country, with a cupcake-slate to start (Ole Miss should start no worse than 6-1 with early games against Troy, Central Arkansas, Ga. Tech, Tusla, Vandy, Kentucky and Auburn) before a brutal finish (at LSU, at Texas A&M, Alabama, at Arkansas, Mississippi State). 
Add it all up, and everything — from the staff to the roster to the schedule — makes Ole Miss one of the most compelling teams to follow this fall. 
Will an early, easy schedule mask any deficiencies? Can the Rebels avoid a backslide in the SEC West once the going gets tough come October? Will the defense regress without Durkin calling the shots? Is Lane really in it with the Rebels for the long term?
Kiffin delivered the Rebels one of their best seasons ever in 2021, and now we'll get to see if he can keep a teetering train on the tracks with lots of obstacles to navigate.