Matt LaFleur updates the status of running back Aaron Jones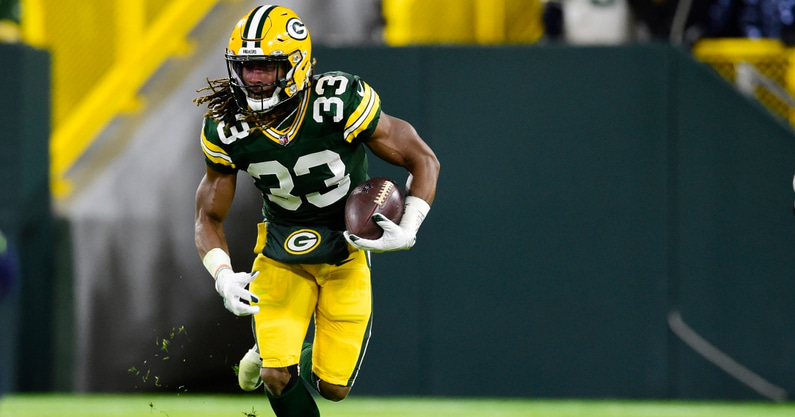 Coming off a loss against the Minnesota Vikings, the Green Bay Packers have an important showdown against the Los Angeles Rams ahead of them. A game that could potentially decide the NFC's top spot, the Packers will need everybody healthy.
One of those is star running back Aaron Jones. He missed Sunday's game against the Vikings, dealing with a knee injury from the week before. He was back in a limited capacity on Thanksgiving, which is an encouraging sign heading into Sunday's game.
Head coach Matt LaFleur gave an update on Jones, saying Green Bay will wait to see before deciding if the running back will play against Los Angeles.
"He did a nice job out at practice, and we'll see how he progresses through the week and see where he's at on Sunday," LaFleur said, via Rob Demovsky of ESPN.com.
Jones' official injury is a sprained MCL. He has rushed for 541 yards and three touchdowns this season, leading the Packers in both.
Packers injury report
Two of Green Bay's best players did not participate in practice on Thanksgiving in quarterback Aaron Rodgers and left tackle David Bakhtiari. Both will be needed if they want a chance to beat the Rams.
Rodgers is dealing with a broken pinky toe, he confirmed Wednesday. He had earlier joked that he wouldn't say how the injury happened, only saying it was during quarantine after his positive COVID-19 test. The injury is likely to continue lingering into the bye week, as well.
Bakhtiari reportedly won't practice this week as he recovers from arthroscopic surgery on his knee. He suffered a torn ACL in January and the most recent surgery cleaned some things up.
On3's Nick Schultz has the Packers' full injury report
Jonathan Garvin added to COVID-19 list
As if things could not get any tougher, the Packers announced on Wednesday that linebacker Jonathan Garvin was placed on the COVID-19 list, but it's unknown if he is vaccinated or tested positive for the virus.
On a defense decimated with injuries this year, Garvin has played in all 11 games with one start. He has 12 tackles, 1.5 sacks and five quarterback hits. The former Miami standout had played 43 percent of the defensive snaps and 27 percent of the special teams snaps for the Packers during the 2021 campaign so far.