Packers running back makes amazing gesture with fantasy football winnings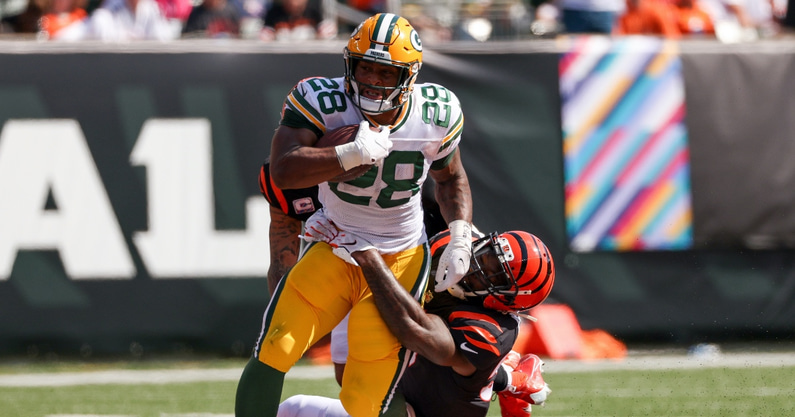 Green Bay Packers running back A.J. Dillon went above and beyond this week. The former Boston College star is giving away $35,000 to charity after winning a fantasy football league through the Sleeper app.
Dillon played with the idea of getting into a league after a fan called him out over the summer. However, NFL players are not allowed to gamble or bet, and they can't accept prizes over $250.
"Somebody called me out like, 'There's no way he can beat us in fantasy,'" Dillon said, laughing. "You know, I'm a pretty competitive guy."
A.J. Dillon's first pick in his draft was Christian McCaffrey, who suffered an injury early in the year. He also drafted David Montgomery, running back for the Chicago Bears.
"They both battled injuries this year," Dillon said. "So I was putting my coaching hat on. Our team had to battle some adversity, but it was a great time."
The Packers star is contributing $10,000 to Willow Tree Cornerstone Child Advocacy. The other $25,000 is going to the Cancer Team at Bellin Health in Green Bay.
This season, Dillon has 803 rushing yards and five touchdowns. He also has 34 receptions, 313 receiving yards and two more touchdowns through the air.
The Packers have a first-round bye this weekend before welcoming their opponent to Lambeau Field next week.
Rodgers shares injury update ahead of Packers playoff bye
Ever since Aaron Rodgers came off the Reserve/COVID-19 list, he has dealt with a lingering toe injury. As the Green Bay Packers prepare for a playoff run, the health of their star signal-caller is at the forefront of every headline.
During a Wednesday press conference, Aaron Rodgers provided an update on his toe injury and how he feels entering the playoff push. According to him, the injury no longer requires pain-killing injections and should return to full strength soon.
"That's been the most encouraging thing. Got through last week without doing one," Rodgers said in his press conference. "It was just a pretty standard shot in the toe — very painful, but numbing agent. So that helped me get through the games. The whole goal was to be able to not have to do that and it's been a few games now without doing that.
"So, I'm feeling good, practiced today. [I'm] close to 100 percent. I think I should be 100 percent probably by next week."
Despite aging another year and engaging in a series of offseason disputes with the franchise, Aaron Rodgers has shown no dip in form this season. He has asserted himself as a candidate to win back-to-back MVP awards with 4,115 passing yards with 37 touchdowns and four interceptions in 2021.
On3's James Fletcher contributed to this report.