Greg McElroy believes the best quarterback conference in 2022 is the ACC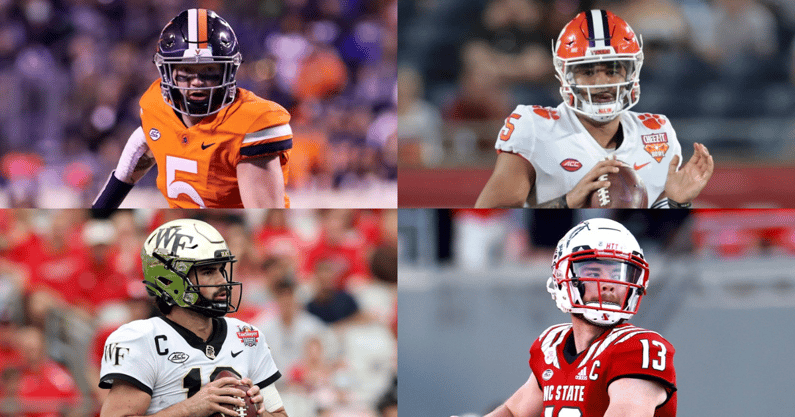 Quarterback has become an even bigger position at the college level over the last several years. Elite QBs lead to big time winning in conference play and berths in the College Football Playoff. When it comes to this season, ESPN's Greg McElroy thinks the ACC has the cream of the crop at the position for the 2022 season.
McElroy broke down the position across the NCAA in a recent episode of 'Always College Football'. It may not be the case every year. During this season, though, he sees the best group of quarterbacks in the nation is in the ACC.
"I think the ACC can make a strong argument it's the best league in college football when it comes to the quarterback position this year. Not every year (but) this year," said McElroy.
ACC quarterbacks averaged 243.6 yards per game and over 30 total touchdowns last season. They lost names like Pitt's Kenny Pickett and North Carolina's Sam Howell to the NFL. They also lost names like Virginia Tech's Braxton Burmeister to the transfer portal. However, they did retain plenty of talent across the ACC.
In the segment, Greg McElroy broke down Virginia's Brennan Armstrong, Miami's Tyler Van Dyke, NC State's Devin Leary and Wake Forest's Sam Hartman in his preview. He didn't even mention players like Clemson's DJ Uiagalelei, Louisville's Malik Cunningham, or some of the other top QBs in the ACC.
Quarterbacks determine a lot in college football today. Elite players at other positions and defenses can get the job done. It's just a lot easier when you have a top-tier, pro level signal caller. That might be why McElroy and other's are so high on the ACC this season. With that much talent under center, it should be highly competitive season out on the east coast.