Greg McElroy lists his five favorite college football traditions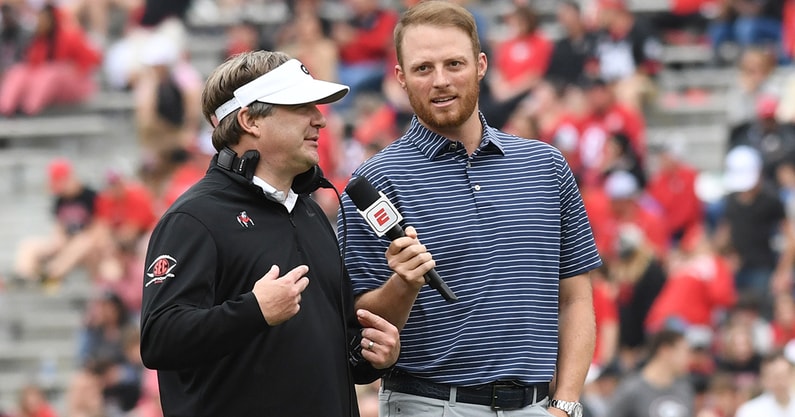 Between his career as a quarterback at Alabama and his time as an analyst at ESPN, Greg McElroy has seen some of the great traditions in college football. On his Always College Football podcast this week, he listed his favorites — and reiterated that disclaimer.
"These are my favorite," McElroy said. "Everyone says 'best.' No, it's not best. These are just my favorites. … I have to have experienced these things firsthand for me to completely feel as though it's No. 1, 2, 3, 4, 5."
Before listing his top five, McElroy first disclosed one beloved tradition he left off his list. The "Dotting the I" at Ohio State didn't make the cut.
"I've been and done games in Columbus. Super cool. Love doing games at Ohio State," McElroy said. "But I always felt like the 'Dotting the I' was a really, really good tradition, and hey, I actually think when they script Ohio might even be more impressive. The fact that they somehow find a way to not hit each other as they're doing a cursive Ohio, to me, blows my mind. But I digress, still impressive, nonetheless. It is, however, not No. 1, not No. 2, not No 3, not No. 4 and not No. 5."
No. 5 — Osceola and Renegade at Florida State
McElroy's list started with a tradition at Florida State: Osceola and Renegade. That tradition dates back to 1978 and involves Chief Osceola riding out on Renegade the horse to plant a flaming spear at midfield ahead of kickoff. The atmosphere is electric, which is why McElroy said it's
"Part of what I love about when Osceola runs out and they plant the spear, on the back of Renegade. To see all the people there in Doak going absolutely bananas," McElroy said. "And then, as he drops it down right on the spear for a big game at night, it is awesome. Absolutely awesome. I think you 100% had to take that in and see it to believe it for it to have as much of an impact on you as a fan of college sports."
No. 4 — The Hawkeye Wave at Iowa
One of the newer beloved traditions in college football is the Iowa wave, which started in 2017. Fans at Kinnick Stadium wave at the Iowa Children's Hospital next door after the first quarter. It's a cool moment, which is why McElroy put it on the list — although, admittedly, it could've been even higher.
"Maybe a little bit of an upset here. Almost had it a little bit higher," McElroy said. "I just feel like it's relatively new. But it's certainly probably one of my favorite traditions. How could it not be? It's just such a cool and touching tribute there in Kinnick Stadium to the Children's Hospital that overlooks the field. Just couldn't be cooler. I love that that has become a new tradition, but one that is revered universally by everybody in college sports."
No. 3 — Howard's Rock at Clemson
As players and coaches take the field at Clemson, they touch a rock brought to former Tigers coach Frank Howard. Then, they run down the hill onto the turf in Death Valley. Although McElroy said that makes him a little nervous and he wonders why they have to take buses to go halfway around the stadium, he said it remains among his favorite traditions in the sport.
"Every time I do a game at Clemson, I'm always a nervous wreck," McElroy said. "I'm like, 'Someone's gonna fall,' because you go down the hill, it's actually legit steep and guys are jumping and they're running. I'm like, 'I would fall and twist an ankle and be out for the game.' That scares me to death. But either way, it's a great way to enter the field and it's a great way to start the game."
No. 2 — Toomer's Corner at Auburn
This is one of the biggest surprises on the list because McElroy put an Auburn tradition at No. 2.
After big victories at Auburn, fans take to Toomer's Corner — located at College St. and Magnolia Ave. — to celebrate. It started with ticker tape, but now, they usually use toilet paper to cover the trees, power lines and stop lights. It makes for quite a scene, one so impressive a former Alabama quarterback put it among his favorite traditions.
"Now, people are gonna say, 'You're an Alabama guy. How can Toomer's Corner be up there?' Because, to me, that's just a really cool tradition," McElroy said. "I mean, it's been going on for 60, 70, 80 years, however long it's been. And to have the trees and the oaks out there and to know that after a win, every one and their brother that loves Auburn is going to be out there rolling the trees. Is it wasteful? Completely. But is it fun? Absolutely.
"I think it's super cool that multiple generations get to do it. And I think it's super cool that that's been the tradition for them for a very long time. That's as nice a thing, as I'll say on Auburn probably ever on this show."
No. 1 — The march on at Army-Navy
McElroy didn't have any qualms about his favorite tradition in college football. Ahead of the Army–Navy game, the cadets and midshipmen march onto the field. That makes for quite a scene, and it's one he puts above any other in the sport.
"It's America's game," McElroy said. "It's still one of the coolest experiences I've ever had — not just as a college football fan, but as a citizen of the United States of America, to go and to see this for myself. And to be on the field watching every single member of the Army and the Navy walking onto the field. There have been presidents there that have been there. You've had four-star generals, you've had admirals. It's the most incredible scene you've ever seen.
"And to think that they have played now, what, 120 times and all the way back to 1890. Everything about the game is special, and it's just even more special when all the people that love our country, that love our servicemen and women, to see all the support that they get on the field there that day, to me, is a rivalry unlike any other. So Army-Navy by a mile is my No. 1."