Greg McElroy believes Tyler Buchner will be the starter for Notre Dame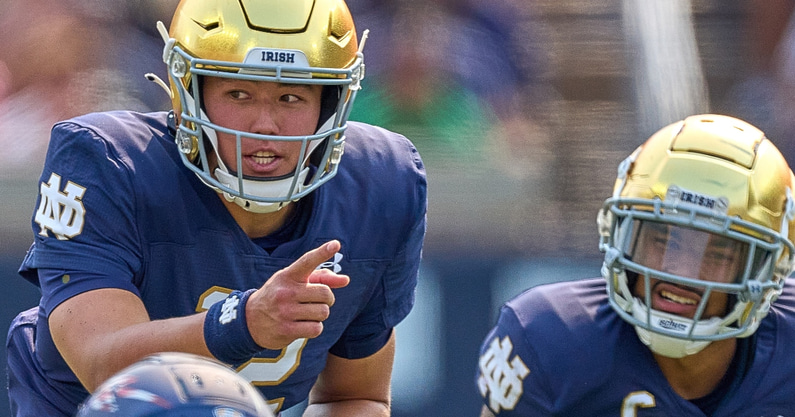 With Jack Coan now in the NFL, Notre Dame coach Marcus Freeman has a big question in Year 1. Will Tyler Buchner or Drew Pyne be the Fighting Irish's starting quarterback?
ESPN's Greg McElroy made his pick — and he thinks No. 12 is going to run out of the tunnel as the starter against Ohio State.
During an episode of Always College Football, McElroy made his case for Buchner to start for Notre Dame. He saw some snaps last year as a freshman behind Coan, throwing for 298 yards and three touchdowns while rushing for 336 yards and three touchdowns, proving to be a dual-threat.
McElroy liked what he saw out of Buchner last year, and he thinks he has a good path to the starting job in 2022.
"I think it's going to be Buchner," McElroy said. "Just listening to how Brian Kelly raved about Buchner last year … he couldn't stop saying really nice things about Buchner's mobility and how he might have a package, don't be surprised if you see 12 out there, all this other stuff. Clearly, they valued his skill set last year and then you look at how they kind of mixed him in against Toledo there in Week 2. Shoot, his first career snap was like a 30-yard run. So he's got really unique mobility.
"But also I think from a passing standpoint, he showcased more to me throwing the football than I anticipated from him. Now, there are a few things that I'd like to see him do a little bit better. The interceptions against Virginia Tech were a little bit troubling. He was a little sporadic against Virginia Tech, too … missed a couple throws. But that's to be expected. The guy's a freshman, hasn't played in an environment like that and did give them a chance."
Greg McElroy: Tyler Buchner has to be 'really smart'
While Buchner proved he can make plays with his legs, McElroy said he has to prove he can still get it done as a pocket passer. If he can do that, the Fighting Irish could be in a good spot.
"He's got to be really smart," McElroy said. "I don't want to see you running over defenders anymore. Stop with that. You've got to take care of your body. And I want to just make sure that he's in rhythm from the pocket and he can win from the pocket. We know he's athletic, he can create with his own legs. But ultimately, at quarterback, the goal is to distribute the football.
"He's got really, really nice pieces around him. Solid experience and solid explosiveness at running back, obviously amazing tight end group, good pieces at wide receiver. Distribute the football. Let those guys work for you and don't try to do it all yourself. … So I think it'll be Tyler Buchner and I expect him to have a really nice season."