Guillermo Diaz is getting ready for high-level college basketball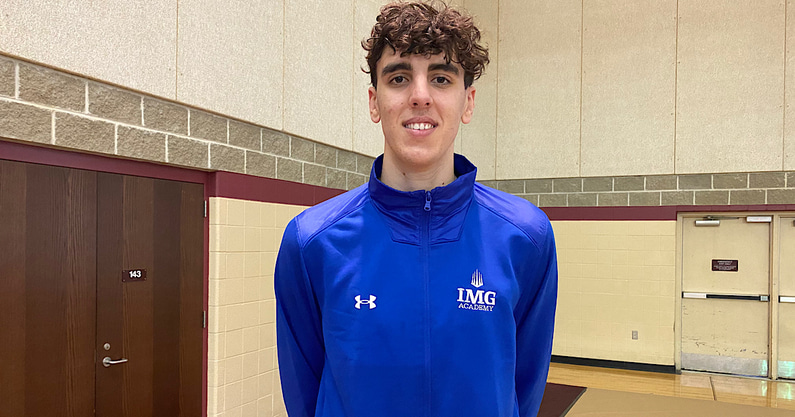 Guillermo Diaz came to the United States less than five months ago. The native of the Spanish Canary Islands spent his summer playing with the Spanish National Team in the U18 FIBA Challengers. The 7-foot Diaz started each game for the team and went undefeated, 5-0 in the event.
"I'm a big guy, but I play like a wing," Diaz told On3. "I have a good skill set, great length, and good footwork. I am tall at 7-foot, and my skill set is like a guy who is 6-foot-4. My biggest improvement since I came to IMG is in the weight room. I came to IMG at 188, and I've put on 17 pounds in the six months. That is the biggest improvement for me. I am 7-foot and 205-pounds now."
Diaz, and his twin brother Jorge, are playing for Bradenton (FL) IMG Academy Academic. Head coach Jim Carr has been around a lot of basketball talent. As a D-I assistant at Rutgers and Rhode Island and then as a state championship-winning coach at Fort Lauderdale (FL) University School, he has been around, recruited, and coached pros.
"I think they're great," Carr told On3 after a night one win at the National Prep School Invitational. "Their skill and the way they move, I think they're going to blow up after this weekend and end up being steals for somebody."
College coaches have already started to take notice of Diaz. Guillermo Diaz spoke exclusively with On3 about his recruitment and process.
"I have offers from Maryland, Utah, Eastern Michigan, Georgia Tech, Fordham, UC-Santa Barbara, and Cal Poly," Diaz said. "Me and my brother Jorge are open to playing together or separate. We are going to look at each situation and do what is best for us, individually."
While moving halfway across the world has been an adjustment for Diaz, he came over with a purpose. Things have been going smoothly, and he is working and learning.
"We came over to the United States this season because we wanted to play high-level basketball and keep our studies up," Diaz said. "Back home, we thought it would be tough to achieve basketball and studies at a high level, so we came here. The game is very different. Back in Europe, the game is not as athletic as here. People here are all so athletic, and basketball here is so fast."
Diaz's take
"We have not gone on any visits yet," Diaz said. "We are waiting for our dad to come over around April and take the visits. I am not sure who will get visits yet. I want to go to a place with good weather; it is so cold up here (Providence, RI). I want to go somewhere with good facilities and where I get along with the staff. I want to have a good relationship with the coaches and have it feel like a family environment."
On3's take
Guillermo Diaz has a special skill set. At 7-foot, he is most comfortable facing up and creating. Diaz has excellent length and is very fluid athletically. He will have to learn the physicality of the American game, especially on the defensive end. Still, the way Diaz moves his feet and his anticipation in the passing lanes gives him a developed canvas to start. Diaz is slender and will need to continue adding weight, but he has good ball skills and is a creative passer. The jump shot is confident, and he can push the break off the rebounder or attack in the half-court from beyond the arc or the mid to high post areas. He is already an accomplished international player, but there is still a ceiling for continued growth.