Steve Sarkisian recalls hilarious story of meeting Dabo Swinney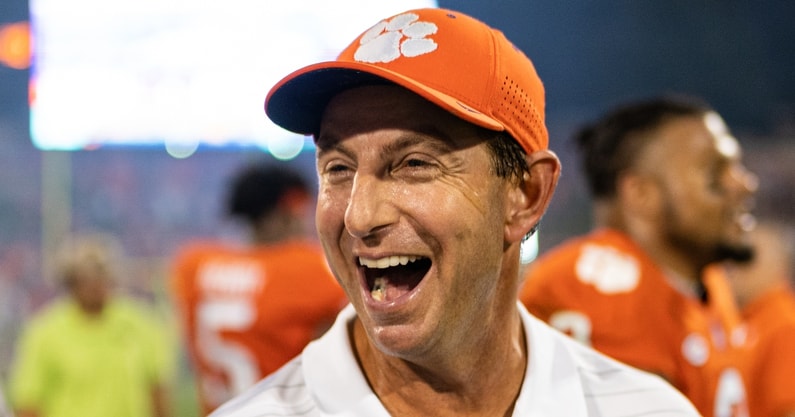 Dabo Swinney is one of the most polarizing figures in college football. He's one of the leading voices in the sport and his personality bleeds into everything he does. While he might be recognizable to everybody today, back when he was getting started at Clemson, Swinney was not too well known but still stood out.
Now-Texas head coach Steve Sarkisian told the hilarious story of how he and Swinney met for the first time. Of course, the two were on the recruiting trail with Swinney representing Clemson but Sarkisian was still wearing USC colors.
Sarkisian, who had spent most of his life on the west coast, was having trouble listening to Swinney talk so quickly. He could not even make out Swinney's full name and was asking for a business card to get a definite answer.
"We were in Gadsen City, Alabama and I was an assistant coach at USC," Sarkisian said during an interview with the Bussin' With The Boys podcast. "We were recruiting — I want to say it might have been Dre Kirkpatrick. There was a lot of coaches there and I remember meeting this young coach. He was talking really fast and I'm trying to figure out what is this guy's name? Coach (Pete) Carroll met him.
"I circled back and said 'hey, can I get your card?' Because I wanted to know his name. Come to find out, it was Dabo Swinney and he was a young coach at Clemson almost 20 years ago now. We're all there, recruiting the same guys in Alabama. Man, he was a fast talker. Dabo and I have a great relationship now."
Kirkpatrick was one of the top players in the country so it's no surprise both Clemson and USC were after his signature. Eventually, Alabama won out and he went on to become a first-round NFL Draft pick. But thanks to the defensive back's recruitment, we now have a hilarious story between Sarkisian and Swinney.
Steve Sarkisian, Dabo Swinney coaching journeys since meeting
Since traveling to the South to compete in the Kirkpatrick recruitment, Sarkisian and Swinney have both had their own successful coaching careers. The latter has won two national championships since becoming the Clemson head coach, while Sarkisian is still in the midst of turning around Texas.
There has never been a direct matchup between the two coaches, even as assistant coaches. While Clemson and Texas do not have a future home-and-home series schedule, you would believe neither Sarkisian nor Swinney would mind meeting up sometime in the postseason.
Hopefully, Sarkisian will be able to keep up with the pace of Swinney's voice.