Report: Mike Brey not offered USF job, will pursue television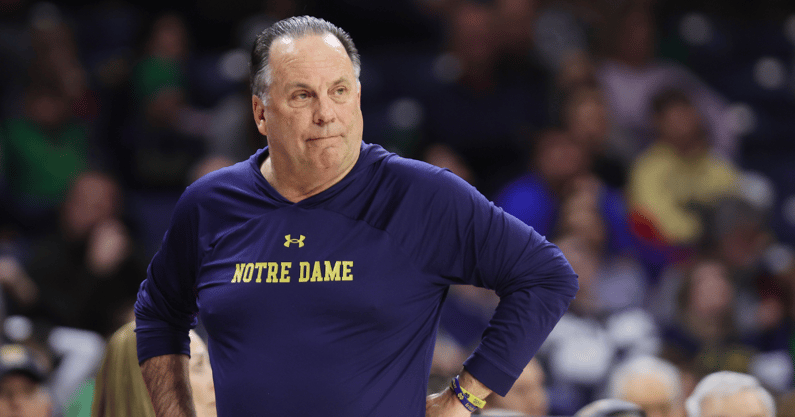 Mike Brey has moved on from Notre Dame but after initial reports of him wanting to retire, the head coach decided to keep his name out there. However, after interviewing at one place, Brey will reportedly take some time off and attempt to get into the broadcasting world.
According to ESPN's Pete Thamel, Brey interviewed for the USF job was an offer was never extended. Some time off will be taken from the coaching world as Brey now looks to find a role in television moving forward.
"Notre Dame coach Mike Brey tells ESPN he interviewed for USF, but was not offered the job, Thamel said. "He said he's going to take some time off and pursue television."
When the news of Brey leaving South Bend was first revealed, the thought was he was going to be retiring. However, the quickly stated he would just be leaving the Notre Dame program and was interested in getting back into coaching.
USF is the only team known to reach out for an interview at the moment. The coaching carousel is just getting underway in college basketball though. There could be a small chance Brey receives another call but for now, heading into broadcasting will be the path.
Mike Brey to pursue TV after successful career
Multiple different companies could be lining up to sign Brey, with ESPN and FOX being the main two surrounding college basketball. Right now, the Worldwide Leader currently holds rights the to ACC, the conference Brey has spent a ton of time in.
On the other hand, he has plenty of experience in the Big East as well. FOX broadcasts their games, giving Brey plenty of different options. Either way, the former Notre Dame head coach will likely be a popular candidate, even if he wants to get back into coaching soon.
The TV move is not like the others Brey's fellow ACC coaches have followed. Coach K has kept his radio show but has not appeared on a major television network to this point. Roy Williams has stayed low-key as well, mainly appearing at North Carolina games. Jim Boeheim is retiring as well but has not announced his future plans past that.
Brey definitely has the personality for it, showing so during his time at Notre Dame. Broadcast networks, whether it be ESPN or FOX, may have to battle it out to acquire his services ahead of the 2023-2024 season.