Ron Rivera on Jahan Dotson: He's done all the thing you need to do to feel good about him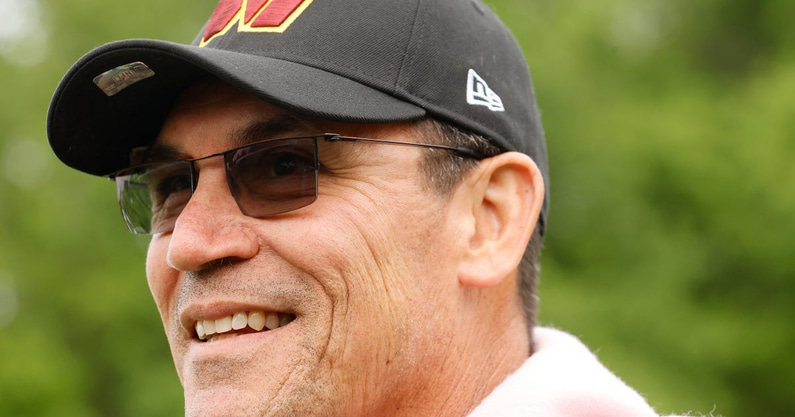 Washington Commanders head coach Ron Rivera recently heaped some high praise for his rookie wide receiver Jahan Dotson. Dotson is the Commander's first-round pick from the 2022 NFL Draft, and according to his new head coach, the rookie is showing why he was worthy of that selection.
"Very precise route runner, excellent hands, very sharp, very smart young man, hard worker — has done all the things you need to do to feel good about (him)," said Rivera, according to ESPN's Jeremy Fowler.
The Commanders needed a speedy, inside/outside wide receiver and that's what they got with the Big Ten standout from Nazareth, Penn. The 5-foot-11, 178-pound wideout ran a blistering 4.43-second 40-yard dash at the NFL Scouting Combine and is coming off of his best season yet with 1,182 yards and 12 scores. For his 91-reception performance as a senior, he earned third-team Associated Press All-American and second-team All-Big Ten accolades. And according to multiple reports from the start of OTAs, Dotson has been stealing the show as the Commanders start meshing their veterans with members of their latest draft class.
This high praise from Rivera could run much deeper than just a pat on the back for his rookie. Currently, the Commander's other young receiver, Terry McLaurin, has been a no-show this offseason. Rivera and the Commanders could be sending a message to McLaurin as well in hopes of getting their other receivers in camp and preparing for the 2022-2023 season.
Rivera provides update on Terry McLaurin contract negotiations, potential trade
McLaurin is making life difficult for the Washington Commanders and coach Ron Rivera. The productive young receiver is unwilling to play for the team unless he receives the contract extension he believes is appropriate given his play over his three years so far in the NFL.
Coach Rivera got a chance to speak publicly and update folks on the situation regarding his best receiver. Here's what he had to say:
"Give you guys a little tidbit. We've been talking with his folks, probably the last week, and working on some stuff and hopefully it'll be taken care of in a matter of time. How much time? I don't know. But it is never contentious. I can promise you that much. So, we're feeling pretty good and pretty confident at some point, this will get done."
Alright! Sounds like T-Mac may be in Washington for the foreseeable future after all. Also good to hear it's no bad blood between McLaurin and anybody on the team. Just simple business negotiations to try and match what the team wants to offer vs. what the player believes he should be paid.
Ron Rivera believes Terry McLaurin will be back in Washington for good with an upcoming contract agreement. Hopefully sooner rather than later for the sake of practice. With Carson Wentz coming in, it'd be nice for he and the star wideout to develop some chemistry.