Heisman Hot Board Week 8: Matt Corral Leads the List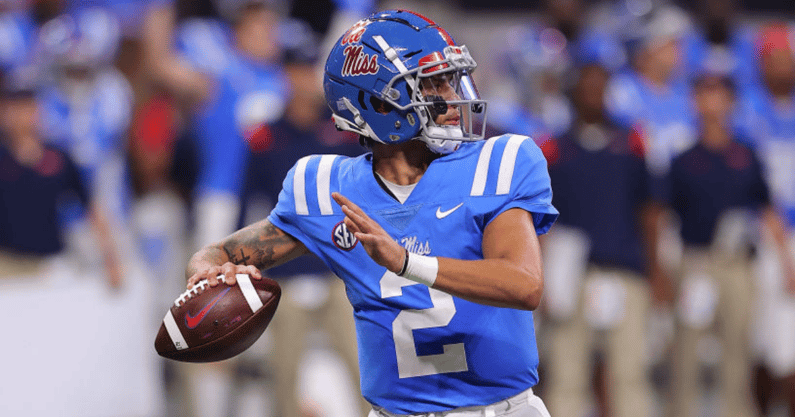 This week's Heisman picks are in. Matt Corral now leads both Matt Zenitz and Charles Power's lists.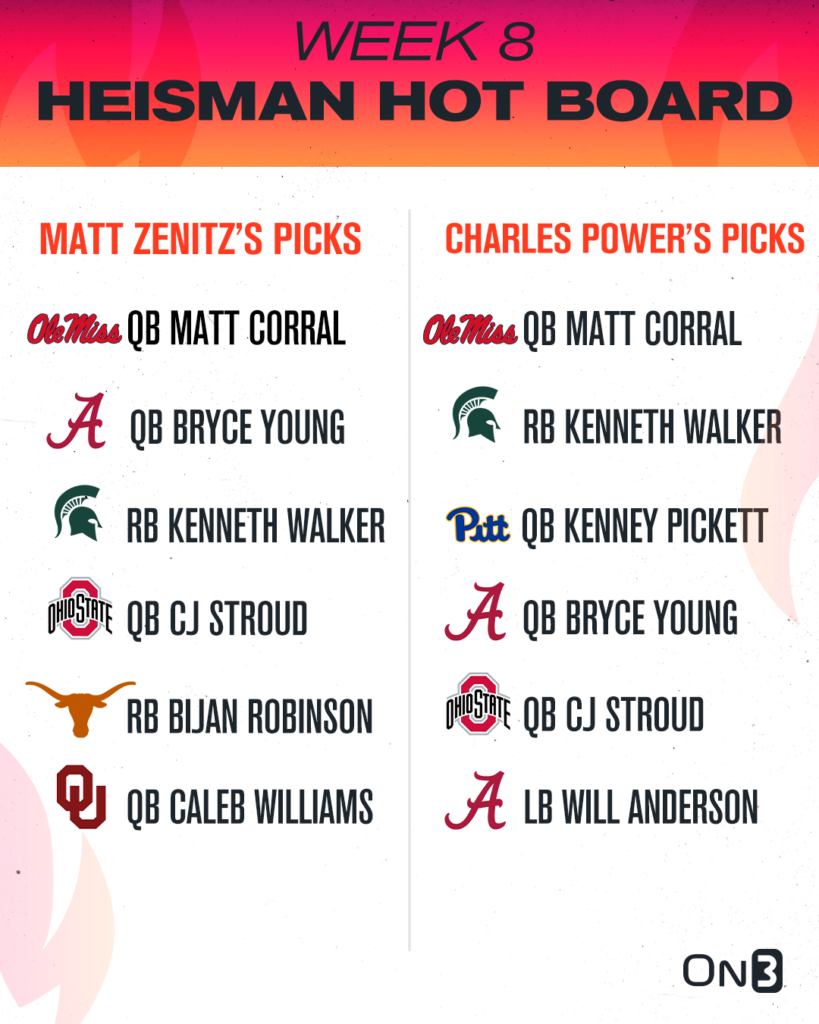 Matt Zenitz's list
QB Matt Corral, Ole Miss
Corral leads the SEC and ranks second among Power 5 QBs in total offense (363 yards per game). During Ole Miss' 31-26 win over Tennessee, Corral accounted for 426 yards (231 passing, 195 rushing) and two touchdowns. The rushing yardage was the second-most from an Ole Miss player in an SEC game since 2009.
QB Bryce Young, Alabama
Young, who threw for 348 yards and four touchdowns in Alabama's 49-9 win over Mississippi State, ranks first among Power Five QBs with 24 passing touchdowns.
RB Kenneth Walker, Michigan State
Walker still leads the nation in rushing (142.4 yards per game) but drops for me some after being limited to 84 rushing yards and an average of 3.7 yards per carry during Michigan State's 20-15 win over Indiana. It was the second time in the last four games that Walker has been held to fewer than 85 rushing yards and less than four yards per carry.
QB CJ Stroud, Ohio State
Stroud has thrown for 736 yards with 10 touchdown passes in Ohio State's last two games.
RB Bijan Robinson, Texas
Robinson, who had 173 scrimmage yards and three touchdowns during Texas' loss to Oklahoma State, has produced at least 139 scrimmage yards and at least one touchdown in each of the Longhorns' last five games.
QB Caleb Williams, Oklahoma
In the last seven quarters against Texas and TCU (since getting a shot to lead the way as Oklahoma's QB), Williams has tallied 507 passing yards, 154 rushing yards, seven 35-plus yard plays and eight touchdowns with no turnovers.
Charles Power's list
QB Matt Corral, Ole Miss
The top spot remains very much in the air with this being the most wide open Heisman races we've seen this deep into the season. Corral led Ole Miss to a wild victory at Tennessee on Saturday. He showed off his rushing ability and some gutsy effort in running for 195 yards on 30 carries. It wasn't his best day as a passer, but Corral is still willing the Rebels to some tight wins in the SEC and is 4th nationally in QBR.
RB Kenneth Walker III, Michigan State
Walker picked up some tough yardage rushing for 84 yards on 23 carries in a 20-15 win over Indiana. The Wake Forest transfer still leads the nation in rushing with 997 yards, while averaging 6.56 yards per carry. The Spartans have a bye this week before a huge showdown with in-state rival Michigan.
QB Kenny Pickett, Pittsburgh
Pickett led the Hokies to a comfortable win on the road against Virginia Tech, completing 22 of 37 passes for 202 yards and 2 touchdowns while rushing for another score. No senior quarterback has done more to help his NFL Draft stock thus far. The New Jersey native has thrown 21 touchdowns to just one interception and is 3rd nationally in QBR. He faces what should be by far his toughest test of the season this week against Clemson's defense
QB Bryce Young, Alabama
Young and the Crimson Tide rebounded from the Texas A&M loss by dominating Mississippi State. The former five-star quarterback was 20 for 28 for 348 yards and four touchdowns with zero interceptions. He currently leads all Power 5 passers with 24 touchdowns and is 5th nationally in QBR.

QB CJ Stroud, Ohio State
Stroud and Ohio State are coming off a bye week, so he maintains his spot in this group. The former five-star caught fire in his two games heading into the bye and will look to keep it rolling as the Buckeyes get into the meat of their Big Ten schedule over the next month.
EDGE Will Anderson, Alabama
Anderson pops back up here after having a career day against Mississippi State. The former top five prospect lived in the backfield with four, yes four, sacks. Anderson lead the nation in tackles for loss with 15 and leads Power 5 players in sacks with 7.5. He's the clear top Heisman candidate on defense as things currently stand, in my opinion. It will be interesting to see if Oklahoma true freshman quarterback Caleb Williams can keep it up as a late, dark horse candidate.